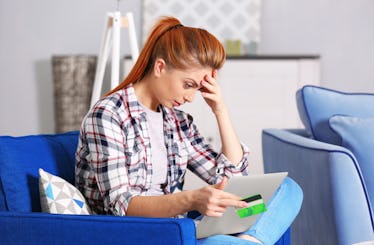 Amazon Is Selling A Sweatshirt That Mocks Eating Disorders And We're Fuming
Let's get something straight here: An eating disorder is a mental illness, and mental illnesses are serious conditions that creep into your psyche, make themselves cozy in the crook of your mind, and stay there until they've successfully wreaked havoc on your physical body. Eating disorders are nothing to joke about, which is why online shoppers are up in arms over an anorexia sweatshirt on Amazon that appears to mock eating disorders. I'm not having it, and it seems the rest of the internet isn't having it, either.
Elite Daily reached out to Amazon, but it has declined to comment on the sweatshirt. Amazon is not the seller of the item, but rather the host of the third-party company selling it. Elite Daily also contacted the third-party brand for comment and did not receive a response at the time of publication.
This controversial piece of clothing comes to market via seller ArturoBuch, which joined Amazon in 2015 and, according to Marketplace Pulse, took a hiatus in 2016. The brand currently has around 40 items for sale on Amazon, including polos, cotton T-shirts, hoodies, and monochrome tees that feature things like cartoons or goofy slogans such as, "I'm here to inquire about your spoons," and "When the zombies come, I'm tripping you."
Up until its "Anorexia Styling Hoody," the label didn't seem to get a lot of attention, or even positive feedback, for that matter. In the past, reviewers claimed that the products are low-quality, resemble what "you would expect from an iron-on," and have an awkward fit. But now, Amazon shoppers are less concerned about the quality of ArturoBuch's clothing, and are focusing instead on opening up a discussion about eating disorders — and how a retail giant like Amazon could have missed something like this on its website.
The anorexia sweatshirt launched Tuesday, Oct. 3, and has already received more than 170 scathing comments.
Emblazoned with the phrase "Anorexia: Like Bulimia, except with self control," Amazon shoppers were quick to reprimand the brand's insensitivity and blunt ignorance. As of the time of publication, the sweatshirt is still available for purchase on Amazon.
Amazon user Book Fairy wrote on the product page,
This type of message damages the lives of the most susceptible members of our society. Making a profit by marketing eating disorders is pure evil.
Another user, Laura Harvey, gave the hoodie a one-star rating, describing it as "ignorant and offensive." She wrote,
This is a reprehensible item. It is completely unacceptable to shame those who suffer with life threatening eating disorders. Anorexia is not 'self control' but rather a compulsive behavior and mental illness just like bulimia.
User Katie|Anne|Phil said,
This is offensive and glorifies a mental illness that is very real, and has the highest death rate of any mental illness. Anorexia isn't a choice, and it has nothing to do with self control. When you have anorexia, you have zero control. The anorexia dictates what you do, where you go, how you feel, what you think about, your personality, your relationships - your entire life. No one who understands the first thing about anorexia would want it or wish it on their worst enemy. Selling this is completely irresponsible. Please take this horrible listing down now
Naturally, Twitter users are putting in their two cents as well.
Eating disorders are not a joke, and they shouldn't be turned into fashion statements, either.
According to the National Eating Disorders Association, 20 million women and 10 million men in the United States suffer from an eating disorder at some point in their lives. This includes anorexia, binge eating disorder, bulimia, and EDNOS, or "eating disorder not otherwise specified." All of these conditions deserve to be taken seriously, as they affect an individual's physical and emotional well-being. In many cases, an eating disorder requires professional help, and in some cases, it can be a life-threatening illness.
Although this sweatshirt is only available for purchase in the United States, ArturoBuch's product has made an international impact, receiving a fair amount of criticism overseas as well.
B-Eat, a UK eating disorder charity first founded in 1989, released a statement yesterday, responding to the product's troubling message and how it can have a negative effect on those suffering or recovering from an eating disorder:
We are aware the fashion industry can play a big part in how eating disorders are perceived, influencing attitudes, beliefs and actions.
When eating disorders are glamorized or trivialized like in the case of this hoodie, it can trigger negative behaviors in people who are affected by these complex mental health issues, which can cause serious harm.
Sadly, eating disorders are often tied to the fashion industry. Brands have banned size 0 models from walking in fashion shows, thin models are often symbols of inspiration for pro-ana supporters, and other graphic T-shirts like the sweatshirt currently in question have sparked their own controversies.
For instance, in 2013, Urban Outfitters designed and distributed a T-shirt that read "Eat Less" in white lettering to its 18- to 28-year-old demographic. The lounge tee raised a lot of eyebrows, including those of actress and activist Sophia Bush, who didn't hesitate to put the brand on blast on her personal blog.
Taking matters into her own hands, not only did Bush demand UO issue a public apology -- in addition to making "a hefty donation to a woman's organization that supports those stricken with eating disorders" -- but the former One Tree Hill star also responded with a T-shirt of her own, reading "0 Is Not A Size," and asking fans to boycott the brand. However, because the topic in question is one of such a sensitive nature, Bush received backlash for her own design. Despite the uproar, Urban Outfitters did not respond nor apologize, and the shirt continued to sell in select stores.
And, of course, who could forget Kate Moss's outlandish aphorism "nothing tastes as good as skinny feels." The supermodel first shared her personal motto in the November 2009 issue of Women's Wear Daily, and countless fashion brands and pro-ana supporters latched on. In 2014, the Hudson's Bay Company removed a graphic T-shirt that included an enlarged nutrition label, with Moss' quote as its center focus, after online shoppers took to social media to express their disgust with the product. The brand issued a statement to The Star, saying that it understood how the T-shirt could be seen as offensive and "due to the overwhelming response and the sensitivity of the matter," it decided to pull the shirt from their website.
Regardless of whether ArturoBuch's sweatshirt design is just a bad joke or a designer's cheap publicity stunt, the fact is eating disorders are mental illnesses and should be treated with compassion and sensitivity. But until everyone can recognize these illnesses for what they truly are, we will continue to see them be mistreated and misrepresented. Hopefully this mistake will only push the conversation on the disease forward.