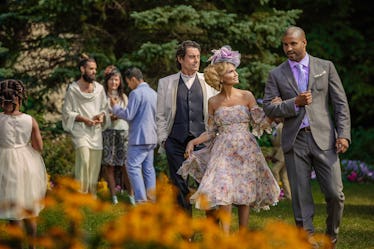 Ricky Whittle Reveals This Small Detail You Might Have Missed In 'American Gods'
STARZ
The American Gods panel was one of the Thursday kick-off events for New York Comic Con this year, featuring actors Ricky Whittle (Shadow Moon), Yetide Badaki (Bilquis), and Pablo Schreiber (Mad Sweeney). While details for Season 2 were technically scarce (Whittle said all of them were available at your local book shop, under "G" for Gaiman), the cast did talk a lot about Season 1, including when Ricky Whittle revealed an awesome American Gods detail.
While the panel only had three members of the ensemble cast, the other major players, from Ian McShane to Gillian Anderson, came up over the course of the freewheeling, hour-long panel. Whittle (whose boisterous personality dominated the event) had great stories to tell about everyone, including how hard it was not to call Anderson "Scully" while working together, and how Ian McShane "has forgotten more roles than I'll ever have."
But, it was the subject of Emily Browning that had everyone on the panel enthralled. Apparently, none of them knew the main female lead was Australian before she showed up — Whittle thought she British and Badaki thought she was American. Pablo Schreiber thought she was just amazing, and praised her performance up and down, especially in the striking Epiosde 6 where she was double-cast in a second role.
This caused the discussion to turn towards the origin stories for all the gods and goddesses. (Browning's double-cast role is in Mad Sweeney's origin story.) But as Badaki talked about Bilquis' origin story, Whittle popped out that she, too, had a double-casting in that scene.
All of the hedonists in her old-school worship scene, and in the disco 1970s scene that followed, were double-cast again later. The all turned up in the season finale as the evangelical christian devotees of Easter, who turn up in their conservative attire to hang out with all of the many Jesuses who are invited to her "special day" every year.
It's that sort of small inside joke that we all know showrunner Bryan Fuller loves. The worshippers of the gods are all played by the same mob of people, whether it's worshipping Bilquis with desire, or worshipping Jesus and Easter with chastity.
Panel moderator Abraham Riesman warned the audience not to ask about Season 2, saying they wouldn't get any answers (other than the "the spoilers are already out there, go read a book"), but there were certain hints dropped here and there. Whittle said that seeing the scene with "his dead wife" playing Essie McGowen in Mad Sweeney's origin story made him excited to see everyone's origin tale unfold, and suggested there would be more coming in Season 2.
He also praised all three actors (Browning, Schreiber, and Badaki) for taking characters, who are essentially small-timers, and fleshing them out into main roles by sheer dedication to who the gods, goddesses and people are. He also suggested that these roles would stay as large as they are now in the next season, which is somewhat of a spoiler if you know Mad Sweeney's fate in the novel.
The fact that none of these actors are American was not lost on anyone. Schreiber said early on that they were lucky in the timing of the show's release. They did an immigration tale, acted out by non-American immigrants, right at the time of Trump's election and the immigration debate.
Will they we able to stay as topical in Season 2? Considering the political nature of some of the panel discourse, it's obvious that the actors don't plan to let topicality slide for comfort TV.
We'll have to see if the next season follows suit when American Gods returns to STARZ next year.