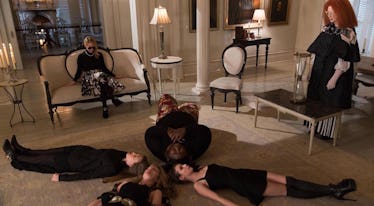 This 'AHS: Apocalypse' Theory Could Mean The Season Will Literally Travel To Hell & Back
FX
American Horror Story fans have known for months that the upcoming season, Apocalypse, will blend together characters and elements from both Murder House and Coven. Up until recently, though, we have seen a lot of the Murder House elements, but not much about how Coven will fit in. After the release of the first teaser for the new season and Ryan Murphy's witch-filled casting announcement, some fans have put together a pretty convincing AHS: Apocalypse theory that connects the season to Coven in a dark, magical way.
This week has been packed with huge American Horror Story: Apocalypse news. A couple days ago, the first teaser trailer for the new season was released, which was filled with enigmatic, disturbing imagery somehow related to the apocalyptic new season. And shortly after that, showrunner Ryan Murphy confirmed that pretty much the entire coven from AHS: Coven would be reprising their witchy roles in Apocalypse. Sarah Paulson and Emma Roberts had already been confirmed to be playing their Coven roles of Cordelia Goode and Madison Montgomery, respectively, in the new season, and Murphy completed the circle by stating that Coven witches Taissa Farmiga, Gabourey Sidibe, Lily Rabe, Frances Conroy, and Stevie Nicks will all be returning for the crossover season as well.
So now that we know all the witches are back, what will they be up to in Apocalypse? That's where this new theory comes in. One of the most prominent pieces of imagery we've seen associated with Apocalypse is the hourglass. An ominous hourglass both starts and ends the teaser trailer, and is also featured in the season's promo art.
What could this hourglass mean? As some fans were quick to point out, this is not the first time we have seen an hourglass figure prominently into American Horror Story. One Redditor pointed out that an hourglass also became a major part of Coven when the witches-in-training had to display the Seven Wonders in order to determine who would be the next Supreme.
Towards the end of the coven's hunt for their next Supreme, the remaining witches were tasked with performing the most dangerous of the Seven Wonders, Descensum, which Myrtle Snow watched over with a large hourglass. Descensum is the power to leave your body and project yourself into hell, but if you stay in hell for too long, your body disintegrates and you are trapped there, which is why Myrtle kept track of how long each witch was gone with the hourglass. Sadly, Misty Day could not overcome her personal trauma in hell (having to continually dissect a frog), and did not return to her body in time.
With the prominence of hourglasses in the promo for Apocalypse, fans are starting to wonder if we will see the witches descend into hell yet again this season... or possibly even re-do the entire Seven Wonders to find a new Supreme. It seems like kind of a given that Murder House's antichrist Michael Langdon will be the person to bring about the apocalypse in the new season, but the real question about the crossover is whether the coven will be helping Michael bring about the end of the world of using their powers to try to stop him.
American Horror Story: Apocalypse will premiere on FX on Sept. 12, 2018.