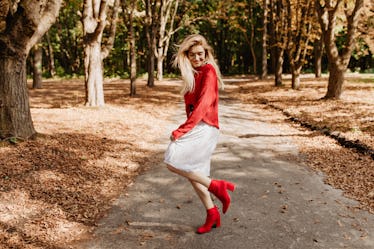 10 Songs For Fall Semester That'll Have You Literally Dancing To Class
Shutterstock
The best way to wake up in the morning is with a good song. It's honestly the only thing that'll stop me from pressing the snooze button over and over again. With the fall semester fast approaching, you have to get into a morning routine yet again — aka no more sleeping until noon if you have early classes. That's why you want to set up a good playlist of songs that'll get you up and dancing around your room while you get ready for class. This 2019 fall semester playlist is exactly what you need.
There may be a major difference between your summer playlist and the types of songs you stream in the fall. This semester is about being reunited with your friends, and kicking off the school year with a fresh start. It's not about dancing on the beach anymore, but instead, dancing in front of your bathroom mirror while you get ready.
With your favorite artists dropping new singles left and right, it's hard to narrow down exactly what should be on your perfect playlist, but if you need some recommendations, here are 10 songs that are perfect for fall. Add these jams to your back to school playlist right now so you have it ready to press play on that first day.