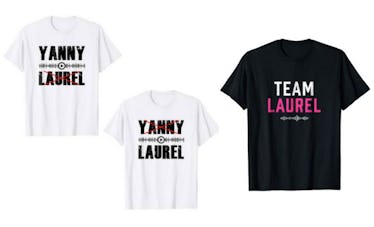 You Can Dress Like The 'Yanny & Laurel' Meme For Halloween 2018 With These Costumes
Let's take a trip down memory lane. I'm talking about all the way back to May 2018. Summer was just getting started, and all was (mostly) right with the world. In the word's of Milhouse Mussolini Van Houten from The Simpsons, "Everything's coming up Milhouse." That is, until someone released an audio recording of "Laurel versus Yanny" that tore the internet apart. It seemed like everyone was debating which word the recording was actually playing. What better way to commemorate the year's most viral event than to dress up like it for Halloween? These Yanny and Laurel Halloween 2018 costume ideas are genius AF.
According to NPR, the Yanny versus Laurel debate sparked the interest of more than 14 million people. All over a four-second soundbite. The hot topic began circulating on Twitter late on the night of Monday, May 14. By the morning of Tuesday, May 15, it seemed like everyone I knew was hammering away at the Yanny versus Laurel discussion.
The creator of the viral sound clip is an 18-year-old high school student. After posting the recording to Reddit, Roland Szabo told The New York Times that right answer is actually "Yanny." Some people claim to still hear Laurel. Why not keep the debate going by dressing up as the fervid blurb.
I can't guarantee you're going to win a costume contest or anything, but you will be the talk of the party if you show up in one of these outfits. Of course, you're going to need a partner to help you out. Here are the best Laurel versus Yanny Halloween costumes.