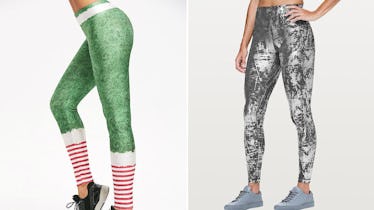 6 Holiday Tights & Leggings You Need RN To Make Your Outfits Festive This Season
Rosegal / Lululemon
The holidays are a fun time for winter style. It's the season of ugly sweaters, Christmas light necklaces, Santa onesies, and — of course — some seriously festive leggings. Let's be real: You're probably rocking leggings and tights the entire winter season anyway, so why not snag some that will get you in the holiday spirit? Here are some women's holiday tights and leggings that I'm seriously crushing on.
You might be dressing up as an elf for your Christmas Eve festivities, or you might be coordinating a matching outfit photoshoot for you and your siblings when you're all home for the holidays. Either way, you'll be in major need of some fun and festive pants to complement your jolly spirit.
I know what you might be thinking: "Why do I need to buy leggings that I may only wear a couple times a year?" Well, a few of the leggings on this list can be worn year-round. But even if they can't, you'll be able to recycle them every year and show up at Christmas parties as the most festive-looking person there.
From gold metallic leggings to ones decorated with cats in Santa hats, you really can't go wrong with any of these fun legging and tight options.