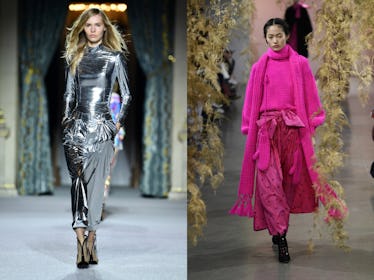 The Biggest Color Trends For Winter Feature Some Shades You'd Never Expect
Balmain/ Ulla Johnson
Every season a new batch of hues comes into play and enlivens whatever silhouettes and cuts and styles are also also being championed by designers at the moment. Colors breathe life into fashion, and winter 2018 color trends are especially spirited. While some of them aren't especially surprising and saturate runways year after year (they're repeated for a reason), others are relatively surprising and prove that more and more colors that were once deemed more appropriate for one season are bleeding into another.
Burnt orange and silver are two of winter's biggest color trends, which isn't especially shocking. Burnt orange is among the class of deep, dusty, and earthy tones that always surge as soon as summer ends, while silver is a universally festive color—it's perfect for holiday parties, New Year's Eve, and the like. But three of the other biggest color trends—fuchsia, cobalt, and bright orange—are rather surprising, seeing as they typically come out of hibernation on the spring/ summer runways. Below, see how each of the trends manifested on the runways of some of the biggest designers around and get inspired to make your winter wardrobe bloom.
Burnt Orange
When it comes to classic fall and winter colors, burnt orange is a long time classic. There's something about it that encapsulates this feeling of warmth and coziness (maybe even hygge) and beyond that, it pairs excellently with other deeper seasonal tones. This year, designers like Sies Marjan, Calvin Klein, and Chloé championed the trend, clothing models in it from head-to-toe. If you want to channel your PSL with your winter wardrobe, this color trend is for you.
Cobalt Blue
Finally, one of my favorite colors ever is a veritable trend! Cobalt blue is a shade that visually shocks and almost seems too unusual to be real. Even a hint of it added to any outfit will render the look a standout so imagine the effect it has when worn in bold form. Stella McCartney, Marni, Gareth Pugh, and Maison Margiela know what's good when it comes to cobalt and infused their collections with the shade—lots of it!— this season.
Fuchsia
The hardest color to spell just so happens to be one of the easiest on the eyes, at least, it seems, to Ulla Johnson, Valentino, and Alexander McQueen, whose seasonal collections are brimming with it. The shade brings some of summer's warmth to the coldest time of the year, because who doesn't need a reminder that the world isn't permanently gray in the dead of winter?
Bright Orange
This color trend was probably the most surprising. Bright pumpkin orange is about to have a major moment this winter and seeing as the hue is typically one that's left largely untouched or used merely as an accent color, it deserves its time to shine. While it might not be for everyone (the shade washes me out, personally), if you're bold enough to rock it the payoff will be major. There's no chance you won't stand out while wearing it. Look to Lanvin, Moshino, Maison Rabih Kayrouz,
and Prada for inspiration on how to style it.
Silver
I think silver will be eternally in. It keeps coming back season after season and for good reason. It's festive, futuristic, and surprisingly easy to style. Alberta Ferretti, Giorgio Armani, Cushnie, and Balmain churned out some of the coolest metallic pieces for this season.
What shade will you throw?