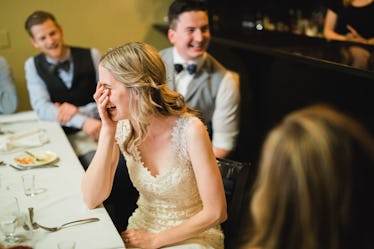 10 Women Reveal The Wildest Wedding Stories They've Ever Heard & I'm LOLing
At my brother's first wedding (he's had three) my disapproving mother wept so loudly that the pastor had to stop the wedding for my brother to shush her. At my friend's wedding, her maid of honor had just broken up with one of the groomsmen. She arrived at the wedding drunk with a new guy who she proceeded to have sex with in the bride and groom's hotel room just to make her ex jealous (he wasn't). Yeah I've seen some awkward wedding moments, but nothing that compares to a recent Reddit thread where women reveal their wildest wedding stories. Mine were pretty tame in comparison.
It's actually pretty incredible just how many ways a wedding can be ruined — or at least get really cringeworthy, really fast — when you think about how much time, money, and energy went into planning the perfect day. But then I guess that's what makes these kind of stories so fun to read, right? In the stories below, you'll find everything from horny guests, to bizarre music choices, and even an alligator wedding crasher. Fun! So, get ready to laugh and cringe at these weddings gone seriously awry.