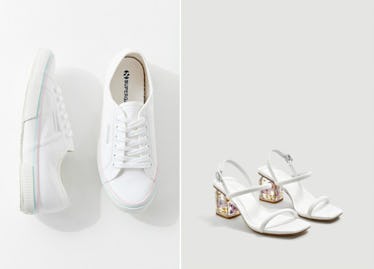 If You're Obsessed With White Shoes, You Don't Want To Miss These 11 Clean AF Pairs
Urban Outfitters/ Mango
When it comes to footwear, there's one staple trend that stands above the rest for its versatility and the fact that it literally never goes out of style. From sneakers to sandals and everything in between, white summer shoes are absolute necessities to invest in when it comes to your warm weather wardrobe.
I didn't understand the white shoe obsession until a few years ago when I bought my first pair of white sneakers. They're by Adidas and have a retro look to them thanks to the leather they're made from and the classic shape. Shortly upon purchasing them I realized that yes, they actually do go with literally everything. Floral dresses, cutoffs, mini skirts, trousers, what have you — they can all be made infinitely cooler when paired with white sneakers.
From there, I bought a pair of white go-go style boots. And a pair of white sandals. And a pair of white mules. As a girl who had stuck to a largely black shoe collection since she was 12, this was big. But white shoes are a bit more of an unexpected neutral to make your outfit pop with and for summer, specifically, they can help make an outfit look extra fresh.
Consider pairing one of the below styles with your favorite look this season and watch how it's transformed.
Walking On Flowers
Yes, the delicate straps and boxy toes of these sandals are great, but their lucite heel with real flowers floating within?! Pure sartorial magic.
Super Duper
Supergas are such cult favorite sneakers that no matter what color, finish, or fabric they're done in, they gain a ton of fans. This simple white pair features light pink and blue details, rendering them perfect to pair with denim and a gauzy white shirt for a breezy summer look.
To The Point
Yes, booties are absolutely made for summer days too! This pair features a pointed toe, kitten heel, and silver zip loop. And they're ankle length, meaning they won't get too hot.
Wrap Star
If you're headed to a more formal occasion, consider these white stilettos. The cool tie ankle detail sets them apart from shoes with more standard ankle buckles, while the pointed toe is equal parts edgy and chic.
Cut It Out
These beautiful perforated sandals remind me of better versions of the cutout paper snowflakes I used to make as a kid. They're super delicate and lovely, and would be perfect with a gauzy floral dress.
Bead It
Combining both netted straps and metallic beads, this pair of sandals features two of summer's biggest trends. They're equal parts sleek and casual, and will likely catch the eye of all you minimalistic fashion fans out there.
Caged In
A good pair of shoes to artfully show off your new manicure in. Wear them with cropped pants and a tee for an effortlessly chic look.
Tell Me About It, Stud
Who says black shoes are the edgiest and most punk-inspired? These platform sandals will give any of their midnight counterparts a run for their money.
Sling To Action
Slingbacks with a chunky heel and slightly pointed toe? Yes, please.
Sticky Situation
For those days when tying your laces just isn't happening. These sneakers remind me of the velcro Adidas Stan Smiths, just way cheaper and with a cool perforated detail. Double bonus.
Slip In
Perfect for wearing around the house or for a casual day out, these slip-on shoes are minimalistic cool at its finest. I especially love their woven footbed and exposed stitching.