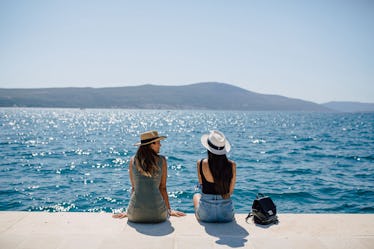 Non-Clichéd Bachelorette Party Destinations That'll Bring The Celebration To The Next Level
When you're starting to plan your bestie's bachelorette party, a few places likely come to mind: Las Vegas, New Orleans, and Nashville. They are certainly hotspot destinations for bridal parties to celebrate the bride-to-be. But if you're looking for a spot that's a little off the beaten path, here are some unique bachelorette party destinations that'll ensure the whole squad has a fantastic, memorable time.
Don't get me wrong: A Vegas bachelorette party complete with table service, a concert, and a few rounds of blackjack sounds like a stellar time, and you and your girlfriends will definitely have a blast if that's the route you choose to go. But if your bride-to-be wants something a little more on the low-key side, you might want to expand your options.
There are plenty of cities around the U.S. that offer beautiful scenery, buzzing nightlife, trendy hotels, yummy food, and all the Instagrammable spots the bride-to-be could ever desire. So whether the bride and her girl squad are feeling adventurous and want to do something outdoorsy, or if you all want to set up shop in a beach chair next to crystal clear oceans, keep these cities in mind for an epic bachelorette party.