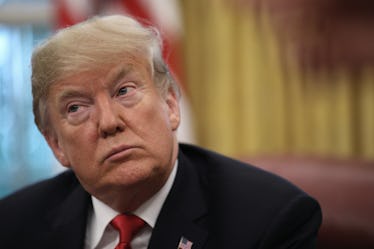 Twitter Is Not Here For Donald Trump's Praise Of Robert E. Lee As A "Great Leader"
Win McNamee/Getty Images News/Getty Images
It may seem impossible that, given all the controversial things he's said since becoming president, Donald Trump could say anything to upset the Twitterverse even further than he has already — but looks to have done just that. This time, he publicly praised Confederate General Robert E. Lee, calling him a "great leader" (yes... really), and Twitter users did not like what he had to say. Elite Daily reached out the White House for further clarification of President Trump's comment, but did not hear back by the time of publication. Seriously, these tweets about Trump's Robert E. Lee comments are filled with anger, disbelief, and utter disappointment.
The stunning moment reportedly went down on Friday, Oct. 12, during a campaign rally in Lebanon, Ohio. (Let's keep in mind that Ohio was a state that belonged to the Union during the Civil War just for shock value, OK?) Speaking before the audience, President Trump went on a tangent about Lee's leadership in the Civil War, telling the crowd that President Abraham Lincoln had developed a "phobia" of him and desperately looked to Ulysses S. Grant for help in defeating him. Though the spiel seemed to be Trump's kind of roundabout way of praising Grant for his role in the war (although he blasted him for an alleged drinking problem), many people also suggested that Trump was simultaneously admiring Lee — the very man was fighting to uphold the institution of slavery in the United States. Have a look at what he said, first:
Just... wow. He always manages to outdo himself with the drama, doesn't he? Almost immediately after the clip aired, many people took to Twitter to fire back at Trump, tweeting out sarcastic musings and history lessons about Lee that may seem spot-on.
And then comedian Tony Posnanski swept in for the win:
It's not the first time that Trump has been slammed for his comments about Lee. He drew widespread condemnation back in 2017 following a deadly rally in Charlottesville, Virginia, which started over the planned removal of two Confederate statues, including Lee's. Rather than condemning the mayhem that broke out, Trump seemed to resonate with the protesters, saying they had been there to oppose the removal of a "very, very important" statue.
"They were there to protest the taking down of the statue of Robert E. Lee," Trump said at the time, per The Hill. "This week it's Robert E. Lee. I noticed that Stonewall Jackson is coming down. I wonder, is it George Washington next week and is it Thomas Jefferson the week after? You know, you really do have to ask yourself, where does it stop?" Considering the Charlottesville rally resulted in three deaths (including two state troopers) and dozens of injuries, the comments didn't go over too smoothly.
Unfortunately, it doesn't look like Trump has learned a lesson since then. But honestly, is anyone surprised? It's best to just cross your fingers that maybe the third time will be the charm, aka hoping that the next time President Trump talks about Lee won't be about how he was "incredible" and a "great leader." Who's with me?