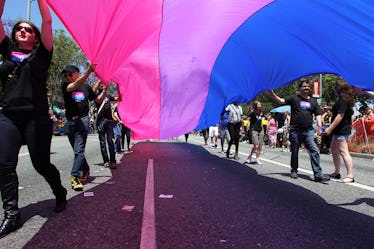 Twitter Is Standing Up Against The Trump Admin's Reported New Sex Definition Policy
David McNew/Getty Images News/Getty Images
On Sunday, Oct. 21, it was announced that the Trump administration might introduce a serious change to LGBTQ+ rights that's not going over well across the United States. According to an alleged leaked memo reported by The New York Times, an initiative by the Department of Health and Human Services (HHS) wants to establish the definition of of "sex" as unchangeable from birth, and these tweets about the Trump administration's gender definition are pushing back against this reported decision. HHS declined Elite Daily's request for comment on the reported leaked memo.
According to the Times, HHS is proposing to establish and standardize the definition of sex under Title IX as unchangeable based on genitalia at birth, categorized as only male or female, and perceptible using genetic testing. It's in contrast to Obama-era efforts, which not only protected trans individuals from discrimination in public spaces, but framed gender identity as based on that individual's personal choice and identity. Naturally, this reported decision sparked huge outrage among LGBTQ+ communities and activist circles alike. Although HHS declined to comment about the alleged leaked memo to Elite Daily, Roger Severino, head of the Office of Civil Rights at the Department of Heath and Human Services (HHS) gave a statement to Elite Daily on Oct. 21 about the department's approach to gender identity. Severino said,
A federal court has blocked HHS's rule on gender identity and termination of pregnancy as contrary to law and infringing the rights of healthcare providers across the country. The court order remains in full force and effect today and HHS is abiding by it as we continue to review the issue.
Once news broke of the reported change, Twitter immediately rose up and pushed back against this decision. Some Twitter users also included the #WontBeErased hashtag as a way to spotlight trans individuals and their importance in society.
This proposal of defining "sex" in such strict, black-and-white terms rolls back Obama-era decisions that allowed trans and non-binary people to more easily express the gender identity that fit them. The Obama administration introduced initiatives and guidance that ensured public spaces such as bathrooms, locker rooms, schools, and more were safe for trans individuals. However, since President Donald Trump took office, multiple anti-transgender policies have been introduced by the administration, including the administration's ban on transgender people serving in the U.S. military, a policy which was blocked in federal court in August. The Washington Post also reported in December 2017 that staffers at the Centers for Disease Control and Prevention (CDC) were instructed to not use the word "transgender" in official budget documents. Dr. Brenda Fitzgerald, Director of the CDC, said in a statement obtained by Elite Daily at the time that "There are no banned, prohibited or forbidden words at the CDC — period," but did not explicitly confirm or deny whether employees had been advised to avoid the word in budget documents.
Since news broke, transgender activists including Laverne Cox, Janet Mock, and Chelsea Manning have openly condemned the administration's reported decision. Notable organizations including Gay & Lesbian Alliance Against Defamation (GLAAD), Lamda Legal, and Trans Lifeline have also expressed their disgust at the possible initiative and have offered assistance to LGBTQ+ individuals seeking help. Dr. Meera Shah, a Fellow with Physicians for Reproductive Health, shared a statement with Elite Daily on Oct. 22 about this gender definition proposal, saying,
As a family medicine physician who cares for transgender and gender diverse people every day, I am horrified by the reports of the Trump administration trying to roll back protections for transgender people by redefining gender. This move by the Department of Health and Human Services is dangerous, and it will harm the well-being of millions who live with significant discrimination in society.
This could be yet another jump backwards in history, but change is still possible. Never forget, you're never alone.