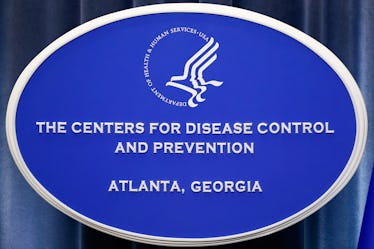 The Story Of Words Being "Banned" At The CDC Is A Little More Complicated
Kevin C. Cox/Getty Images News/Getty Images
It might have seemed like the world was ending on Friday when a report came out that the Centers for Disease Control and Prevention (CDC) had been directed to ban seven words from their vocabulary. Many Americans, understandably panicked, began asking whether President Donald Trump banned words at the CDC. The short answer is not really, no. The long answer is a bit more complicated.
The Dec. 15 story, first in the Washington Post, reported that the Trump administration was prohibiting CDC officials from using a list of seven words in their 2019 budget documentation. The words included were fetus, diversity, vulnerable, transgender, entitlement, evidence-based, and science-based. The news took off, causing an uproar on social media and in advocacy circles in particular, that a federal agency might be subject to such censorship. Elite Daily reached out to the White House and was referred to the Department of Health and Human Services (HHS). The HHS did not respond at time of publication.
"There are no banned, prohibited or forbidden words at the CDC — period," Dr. Brenda Fitzgerald, Director of the CDC, said in a statement obtained by Elite Daily. "I want to emphasize to anyone who may believe otherwise that we continue to encourage open dialogue about all of the important public health work we do." She stressed the agency's history of evidence-based decisions and science as its bedrock.
A former official, as well as other CDC officials, interviewed by The New York Times suggested that the move was more about financial politics than anything. As opposed to being an outright ban that would apply to general CDC work, one unnamed official told the Times, "They're saying not to use [those words] in your request for money because it will hurt you. It's not about censoring what CDC can say to the American public. It's about a budget strategy to get funded." The strategy was reportedly designed to comply with a Republican-majority Congress responsible for deciding the budget, although they are not the only body that determines the agency's funding.
In the statement, Fitzgerald also suggested that the words to be avoided were in the context of securing a budget. "I understand that confusion arose from a staff-level discussion at a routine meeting about how to present CDC's budget. It was never intended as overall guidance for how we describe and conduct CDC's work." Her statement did not explicitly confirm or deny that CDC employees had been advised to avoid those seven words in their budget documentation.
"The assertion that HHS has 'banned words' is a complete mischaracterization of discussions regarding the budget formulation process," Matt Lloyd, a spokesperson for the CDC, told The New York Times in an email. But Lloyd apparently did not respond to follow-up questions on the subject.
On Sunday, Dec. 17, Fitzgerald sought to put some Americans' concerns to bed with a series of tweets explaining the situation.
But some users weren't satisfied with Fitzgerald's answers. "Including in your budget documents and supporting materials?," wrote Scott Hartsman, CEO of video game developer Trion Worlds in a reply. "And can you confirm there's no recommendation to use offensive tripe like 'community standards and wishes'?"
The CDC is overseen by the HHS and circulates its budget documents to multiple agencies and Congress, per the Times. It submits budget proposals to the Office of Budget Management (OMB), according to the Post, which then decides what gets included in the budget.
According to a source quoted by the Associated Press, the censorship may extend beyond those seven words; "health equity" was apparently another word on the avoid list in giving public talks or presentations, although a CDC spokesperson reportedly said she wasn't aware of that. "What is clearly happening is those people are afraid to use those words in any talks or papers. Everybody's afraid to do their job right now," the unnamed source told AP.
Dr. Sandro Galea, Dean of Boston University's School of Public Health, also told AP that any potential CDC censorship was a big deal "because the words that we use ultimately describe what we care about and what we think are priorities." He added, "If you are saying you cannot use words like 'transgender' and 'diversity,' it's a clear statement that you cannot pay attention to these issues."
So the guidance on words to avoid appears, per the CDC, to extend only to budget documentation. But it's unclear what, if any, affect such a limit on language might have on the issues these words represent, such as research on fetuses or transgender health. An attempt to clarify this with the CDC was not responded to at the time of publication.
As for whether Trump himself is responsible, not directly, no. But as with many key political decisions, his appointments to top roles in agencies like the HHS can play a role in shaping policy. Trump's initial pick for the HHS, Tom Price, stepped down from his position as secretary in September. Trump's new pick, Alex Azar, appeared at for his Senate confirmation hearing on Nov. 29 but has not yet been confirmed.