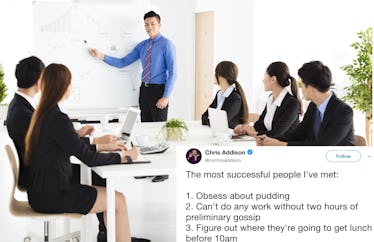 People Are Tweeting About "The Most Successful People I've Met" & It's So Hilarious
When a meme goes viral, it's usually because it can make people laugh over and over again. Recently a tweet from a "crypto-capitalist" took on a life of its own when it started to make the rounds on Twitter. What began as a list that was meant to be helpful for people looking for "success" turned into perfect fodder for the whole of the internet. These tweets about "The Most Successful People I've Met" are so relatable and will definitely make you laugh.
If you're not familiar with the recently popular meme, then let me fill you in. According to Know Your Meme, it began with a tweet from Twitter user Anthony Pompliano (@APompliano) on June 10, 2018. The tweet was captioned, "The most successful people I've met," and it listed nine attributes of "successful people" in a checklist-style post. The list included activities like "workout daily" and "have laser focus," and it immediately began to generate parody lists.
At the time of publication, the original tweet from Pompliano had over 41,000 likes and nearly 12,000 retweets. According to his Medium bio, Pompliano is a "crypto capitalist hell-bent on tokenizing the world." He seems to be all-in on cryptocurrency, because Pompliano's Twitter bio also reads, "#TokenizeTheWorld."
It's not Pompliano's interest in cryptocurrency that made his tweet go viral. Instead, it is the very easy-to-duplicate template with suggestions of what successful people do that makes parody tweets so enticing. And really, if you're going to tweet a list that includes "Demand excellence..." you have to know there are some jokes coming your way.
One of the first parody tweets to go viral was from Andrew Althouse (@ADAlthousePhD) on June 12. Althouse took a different view on what makes a successful person, and he even added qualities of "the people I want to be like."
From there, the floodgates were open, and all "The Most Successful People I've Met" tweets came rolling in. Most of them have a humorous and sarcastic take on the original list.
One very popular "The Most Successful People I've Met" tweet has a slightly cynical take on the list, and it offers up an alternate checklist of what makes a successful person.
Another parody hilariously went into a few clichés about rich people.
In a less biting parody, quips about the workday's "preliminary gossip" and timely lunch decisions will have you laughing while also saying, "OMG, same."
Another popular tweet hit right to the most relatable qualities of successful people, and if perusing cat GIFs is a straight line to success, then I am so in.
In fact, many of the parody tweets hint at the fact that the best people might not even be human at all. These tweets about "successful" dogs and cats will remind you why furry friends make everything better (and funnier).
Of course, there was ample opportunity for music lovers to shoot their shot with this list — and honestly, they might be some of the funniest takes on the original tweet (like "Mambo No. 5" and "Mr. Brightside").
Thanks to this tweet, "The Most Successful People I've Met" meme was officially "Rickrolled."
Other throwback hits like "B*tch" and "It Wasn't Me" also made the cut — and you'll be glad they did.
If you're going to use music, then why not include television, too? This tweet is very of-the-moment, and I secretly hope it's true that all Queer Eye viewing directly leads to personal success.
While this selection of tweets is a telling collection of what kind of parody tweets are out there, there are also plenty more "The Most Successful People I've Met" tweets to make you laugh and enjoy this popular meme.
Plus, this meme is one of the easier ones to replicate, so you could even tweet out your own list to join the fun. If you're stuck on what might be a good idea, it seems like any '90s or early '00s track will work just fine. So, turn on a #TBT playlist and get your own "The Most Successful People I've Met" tweet out there.