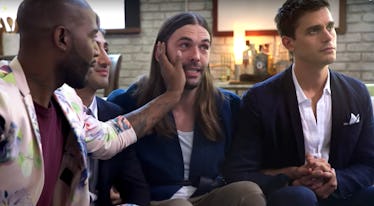 The 'Queer Eye' Season 2 Trailer Is Finally Here To Make You Cry, Laugh, & Then Cry Again
Netflix
Your favorite feel-good makeover show is almost back, and to celebrate, Netflix just dropped the full trailer for the second season of Queer Eye. The two-minute clip brings the Fab Five back together as they continue their journey through Georgia to teach people in need all about grooming, fashion, food, culture, and design. The new Queer Eye Season 2 trailer also includes a couple of pretty surprising firsts for the series, and of course, it also has tons of hilarious and tear-jerking moments to ensure that you will be crying after you watch it.
The new trailer doubles down on the biggest difference between Netflix's Queer Eye and the mid-2000s Bravo series Queer Eye for the Straight Guy: the Fab Five is no longer exclusively making over straight men. In the show's first season, they broke this mold by making over a partially closeted gay man, and Season 2 will see even more diversity in its subjects. The Season 2 trailer introduces the Fab Five to their first female subject, and the quintet will also be helping a trans man for the first time. But really, the best part of the new trailer is getting to see Jonathan Van Ness, Antoni Porowski, Tan France, Karamo Brown, and Bobby Berk back together again.
Check out the Queer Eye Season 2 trailer below:
Did that trailer get you pumped for a whole new batch of Queer Eye episodes or what!? Well, the best news of all is that we do not have to wait much longer at all to get them. Season 2 of Queer Eye is dropping on Netflix next week, on Friday, June 15.
Here's what you need to know about Season 2 of Queer Eye: It is going to consist of eight episodes, just like the first season that premiered back in February. Since it's on Netflix, all eight episodes will be dropping at once on Friday, June 15, so you can binge your way through the whole thing right away if you want to. All of the new episodes will be taking place in Georgia, also like the first season, since Season 2 was actually filmed directly after they shot Season 1.
As far as what topics and issues will be discussed, Tan France mentions how male body image is not mentioned as much as it should be in the trailer, and Bobby Berk reveals that he is making over a church community center, so religion will likely be a big part of an episode. The Fab Five will also be talking about trans identity with their first trans man subject.
The trailer also features the show's new theme song, which was remixed by pop star Betty Who. You can check out the music video for the new Queer Eye theme song featuring Betty Who with Jonathan, Antoni, Tan, Bobby, and Karamo below:
Clearly, Queer Eye has a ton of amazing things in store for fans in Season 2, and it looks like the cast is already hard at work on Season 3! The Sydney Morning Herald spotted Bobby Berk and Antoni Porowski making over a hotel in the town of Yass, Australia, and reported that they were filming for Season 3 of Queer Eye (although Netflix has not officially announced a renewal yet). It looks like future seasons will finally break the Fab Five out of Georgia and have them travel internationally. If you don't get why they chose to make over a town called Yass, then are you really a fan of the show?
Eight brand new episode of Queer Eye will be available to stream when Season 2 drops on Netflix on Friday, June 15.