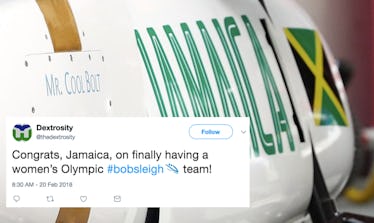 The Jamaican Bobsled Team Has Everyone Pumped & These Tweets Prove It
Ryan Pierse/Getty Images Sport/Getty Images
The Jamaican bobsled run is arguably one of the most anticipated races of the 2018 Winter Olympics — probably because a lot of us think that their performance is gonna be like a sequel to the ultra-classic '90s film, Cool Runnings. Though it's almost 25 years later (yes, I've been keeping track), I feel like Team Jamaica is going to continue their country's legacy while scoring epic runs that'll be 1,000 times better than the one's we saw in the movie. Social media seems to agree, too. Before the event could really get started, tweets about the Jamaican bobsled team started pouring out by the dozens, and show that everyone is just as pumped as I am.
On Feb. 20, Team Jamaica will compete in the two-man women's bobsled competition in PyeongChang, South Korea. It's the very first Jamaican women's bobsled team to qualify for the Winter Olympics, which makes it super special. And with athletes like Carrie Russell and Jazmine Fenlator-Victorian, I can't wait to see how epic their runs will be. Once the competition started, social media users hopped on their accounts to root for Jamaica as well sharing words of encouragement, love, and enthusiasm.
Team Jamaica has had a rough week.
The Jamaican bobsled team has had a long week, so it's nice to see that people are showing them some love. Just days before the competition was scheduled to commence, Jamaica's coach Sandra Kiriasis quit after she denied a request to alter her roles from driving coach to track performance analyst, according to NBC Olympics. In a statement reportedly posted to her Facebook page, Kiriasis said the request came "out of the blue," which apparently upset her. Her statement read:
Without giving any reasons, I was told out of the blue that with immediate effect I should work only as a track and performance analyst, would have had to leave the Olympic Village, would lose my accrediation as part of the Jamaican team and was not supposed to have any more contact with the athletes, etc.
After Kiriasis' reported decision to leave the team, she claimed that she had leased their sled from a company in Germany, according to Business Insider. She reportedly wouldn't return it unless it was paid for by the team, which pretty much put its athletes in a rut.
However, Red Stripe, Jamaica's most popular beer company, came to the team's rescue shortly after. On Feb. 15, Red Stripe gifted the Jamaican bobsled team with a new sled.
Now they just need matching shirts that say "SLEIGH ALL DAY" @RedStripeUSA!
But seriously, it's good that it all worked out.
During a press conference on Feb. 10, Fenlator-Victorian said the competition was so important because it would show kids with Olympic dreams that they could achieve them, so it's awesome that the team was able to compete. She said,
It's important for me that little girls … little girls and little boys see someone who looks like them, talks like them, has the same culture as them, has the same crazy, curly hair and wears it natural, has brown skin, included in different things in this world. When you grow up and you don't see that, you feel that you can't do it. And that is not right.
So, coming back home to Jamaica, I wanted my Jamaican people to see they could do it. And there is not just one path that way or one path this way to get out of poverty, to make money or to make a name for themselves. If they want to be a Winter Olympian and do alpine skiing, now they see their fellow Jamaicans doing it.
On Feb. 20, Jamaica finished their first run in 51.29 seconds for 17th place.