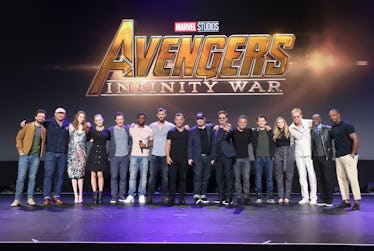 These Tweets About The 'Avengers: Infinity War' Trailer Just Officially Broke The Internet
Jesse Grant/Getty Images Entertainment/Getty Images
Everyone's Friday became a bit brighter when the new trailer for Avengers: Infinity War dropped. Set to premiere on April 27, the mega blockbuster has brought together the Avengers, the Guardians of the Galaxy, and essentially every superhero belonging to Marvel Studios for an epic battle against villain Thanos. Given the large scale of the movie, tweets about the Avengers Infinity War trailer have exploded all over the internet.
Hype over the upcoming film intensified several weeks ago when its premiere date was bumped up a week amidst Disney's major schedule revamp. The movie's plot involving Thanos has also been teased since the first Avengers film in 2012, which established the pattern of hinting at future conflict in post-credits scenes. Even with a sequel planned for a 2019 release, Infinity War is clearly what so many Marvel fans have been waiting for.
Packed with plenty of looks at the star-studded cast, the launch of the Infinity War trailer alone inspired fans to start planning their trips to the movie theater. Doing the math for those of us who are less committed, one fan even joked about determining which characters would last through Infinity War Part 1 based on logistics such as actors' contracts.
Devoted fans of both the films and the original comic series have their own worries and speculations about characters' fates in Infinity War, and the trailer's shot of Captain America / Steve Rogers' faceoff with Thanos already has some people worried.
As seen at the end of 2016's Captain America: Civil War, Steve Rogers left his superhero shield with Iron Man, prompting speculation that, in some way, Sebastian Stan's Bucky Barnes would replace him as Captain America. While Steve Rogers may be disaffiliated with the superhero name, his return for this massive battle reflects actor Chris Evans agreeing to return for Infinity War.
I had six films in my Marvel contract, so I could have said after the third Avengers I was done, but they wanted to make the third and fourth Avengers films as a two-parter. They said they had so many other characters to fit in - Guardians of the Galaxy, Black Panther, Captain Marvel, Doctor Strange, Ant Man - and couldn't get them all into one movie. [I agreed] because it made sense. It's going to wrap everything up.
Other fans have also guessed that Tony Stark / Iron Man may die in the immersive movie. In the trailer, Thanos, played by Josh Brolin, appears to tell the billionaire, "I hope they remember you." Hmm, low-key spoiler or just crafty editing?
While much of the discussion circulating the trailer involves death theories and prayers for fans' favorites to make it through alive, others have focused on its fluffier moments, such as Peter Parker introducing himself to Dr. Strange and Peter Quill interacting with the Avengers.
With seemingly every character accounted for in the trailer, fans have also narrowed in on the absence of Hawkeye / Clint Barton.
Hawkeye is missing from both the trailer and the film's official poster, which explains directors Joe and Anthony Russo's hint that the character is flying solo in Infinity War:
Characters on Cap's team made certain decisions, and others made other decisions that led to different paths in them dealing with oversight in this movie in a different way. So Hawkeye's on his own journey in this movie.
Let's hope that "his own journey" doesn't mean "we cut out most of his scenes."
It's clear that excitement is at an all-time high for Avengers: Infinity War. The film finally hits theaters on Friday, April 27, but there's always the cast's infinite talk show appearances in the weeks prior to hold us over.