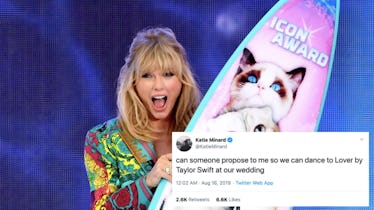 Swifties Are Losing It Over Taylor's Romantic New Single, "Lover"
Kevin Winter/Getty Images Entertainment/Getty Images/Twitter
Taylor Swift is the gift that keeps on giving. Seriously! A month ahead of her album Lover release on Aug. 23, Tay Tay gave Swifties "The Archer," advising it was her most emotional song yet. Subsequently, Swifties on Twitter were an emotional mess. Then, at the Teen Choice Awards on Aug. 11, Swift said she planned on dropping her title track on super soon: "On the 16th, I have a new song called 'Lover' that's coming out and I'm so excited." Well, it's Aug. 16, and now I'm so excited because it's here! Clearly, so are fans on Twitter, because they can't stop talking about the romantic single. You can tell by these tweets about Taylor Swift's song, "Lover."
Seriously, fans seem to really love it. The new track is all about Swift living with her "lover" — and it'll give you all the feels. The first verse talks about the lovebirds leaving their Christmas lights up until January (because they can), while the second verse talks about letting friends stay over in their living room (because, again, "they make the rules"). Of course, Swift takes moments throughout the tune to swoon over her SO, asking to be with him "forever and ever." It's so romantic, y'all.
TBH, it's the perfect track for couples at any stage in their relationship (whether they're moving in together or not), and Twitter is feeling the love. In fact, some folks want the song played at their wedding. It's that swoon-worthy.
Other people are just feeling extra emotional after hearing the track (myself included).
Other people think the new single has "old Taylor" vibes, and they're really happy about it.
Before this momentous drop, many fans took to Reddit to discuss the potential content of the album. In a thread called "It's a cruel summer - so here's every possible detail about Lover," one user seemed to have the skinny on just about every track, including "Lover." I have a feeling they got that special invite to one of Swift's secret listening sessions. Lucky! Anyway, the Redditor described "Lover" as "a wedding song if you will. (Think Speak Now title track minus the heartbreak side)." Woah, they were totally on it.
Alongside her midnight single debut, Swift released a lyric video for "Lover." The video is just as romantic as the song, complete with home video projections on a DIY movie screen that's made with a sheet. It's so cute, you guys.
With a mere seven days before the full album's release, I'm wondering what the rest of the album will be like. I'm leaning towards a lot more emotional tracks, especially after Swift likened Lover to a love letter in an August 2019 interview with Vogue. "There are so many ways in which this album feels like a new beginning," she said. "This album is really a love letter to love, in all of its maddening, passionate, exciting, enchanting, horrific, tragic, wonderful glory."
Mark your calendars for Aug. 23 (aka the official release date of Swift's upcoming album), and grab your tissues. I have a feeling this one's going to be emotional.