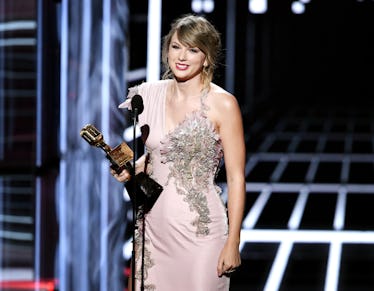 Fans Won't Stop Trolling Taylor Swift Over Her Facial Expressions At The BBMAs
Kevin Winter/Getty Images Entertainment/Getty Images
Twitter is going nuts with reaction gifs — as usual! Especially though, for the one mega pop star that no one expected to be in attendance at the 2018 Billboard Music Awards. These tweets about Taylor Swift's reactions at the 2018 Billboard Music Awards are hilarious, and you need to see them.
Swift is on track to have a good night — she's already won Best Female Artist. But on top of that, Twitter is taking advantage of the singer's first public appearance in a long time by making the best memes out of her reactions.
"It's so nice to receive female artist," Swift said. "I'm on an all female artist stadium tour right now, so I have to start out by saying thank you to my tourmates Charlie XCX and Camila Cabello. And I want to thank all the female artists who paved the way for us to get to do what we do the way we get to do it." Swift also won Billboard's Top Selling Album award, for her Reputation album.
Cabello sat next to Swift and did a serious happy dance for her when she walked up to receive her award. It was such a sweet moment between the two, who obviously share a close bond.
Swift sat next to Shawn Mendes, and during host Kelly Clarkson's opening medley of hits — which included Swift's song "Look What You Made Me Do" — she had the best reaction. She sang along with Mendes to her own song, while serving the same looks she does in her music video.
Seriously though, is there anything better than Taylor Swift singing Taylor Swift songs being performed by someone else? Her whole look was absolutely hilarious, and Twitter was here for it.
One user tweeted, "THE WAY SHE JUST LOOKED AT HER NAILS SO FLIPPANTLY," and I know the exact feeling.
Sitting on Swift's other side was Camila Cabello. The trio rocked out hard to Ariana Grande's opening number, "No Tears Left To Cry," and they each have their own signature head bobs — and it's adorable. Mendes is set to perform twice at the awards show, and Cabello is nominated in more than four categories, including Best New Artist, Best Female Artist, and Best Collaboration. Clearly, their friendship is real, because Swift even surprised fans at her Los Angeles show on Friday, May 18, with a guest spot from Mendes himself (the two used to tour together, and Mendes used to open for her when he was just getting started).
There's also various reaction shots of Mendes and Swift that basically sum up everyone's facial expressions when watching the Billboards. They're just like us.
Swift knows how to please the fans. That's probably why she not only brought out Mendes on tour recently, but also surprised everyone with appearances by Selena Gomez and Troye Sivan. Swift's stadium tour for the new album is in full swing, and she had a star-studded stint in Los Angeles on Saturday night, May 19 — after which, Twitter also went wild.
"It was unbelievable," Mendes said of performing with Swift earlier in the week. "It was obviously just really awesome to be back and to be with her. But it's a very different thing to be brought out as a special guest." Swift's mega-production on her Reputation world tour is set to continue this week as she heads to Seattle on Tuesday, May 22.
For now though, her facial reactions at the Billboard Awards will sustain me. Cringe-y as they sometimes are, it's an awkward, self-aware sense of humor that makes Taylor Swift, Taylor Swift.