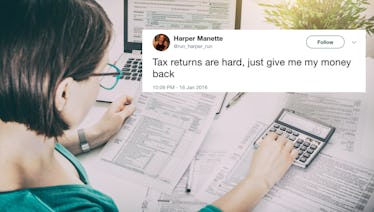 Everyone Is Just As Confused About Taxes As You Are & These Tweets Prove It
Tax season admittedly is not as fun as, say, rosé season, but taxes are a part of life whether you like it or not. Sorting through your W-2s and 1099s can be mind-numbingly boring. I don't know anyone that really enjoys the process of filling out a tax return, but sometimes the best tweets come out of those times when everyone is similarly annoyed by a necessary evil. So as you crunch the numbers to see if you'll be getting any money back this year, you can take a look at these tweets about tax returns to help you pass the time with a laugh or two.
One more silver lining about this year's tax season is that you have a couple extra days beyond April 15 to get your tax returns filed. Due to the fact that the traditional tax filing deadline lands on a Sunday this year and Washington D.C. observes Emancipation Day on April 16, the tax filing deadline for 2018 is Tuesday, April 17. Personally, extra time to meet a deadline usually translates to more opportunities for procrastination. Speaking of procrastination, here are those relatable tweets that will totally help you get through tax season.
People are worried they are really going to screw something up on their tax returns.
"Doing my tax returns and paranoia about filing them incorrectly and getting arrested is going to be the new fixation of the season."
Potential jail time due to tax return errors is apparently a major worry during tax season.
"...I HOPE THE IRS DOESN'T TAKE ME TO JAIL."
Some people find it hard to believe that it's even worthwhile to spend your time on filing tax returns.
"...I decided to spend the time doing something more productive so I taught myself how to moonwalk instead. Time well spent."
Tax season is really just a time for procrastinators to shine.
"I'm putting it off again ... every time #TaxReturn."
"Tax returns are hard, just give me my money back."
Almost anything seems like a better alternative activity than doing taxes.
"Doing tax returns makes beating my head against a wall not sound so bad."
Emotions run high when it comes to figuring out how much money you might owe the government.
"Adulthood is going great, I cried on the phone ... because tax returns are hard."
Filing your taxes requires a lot of energy.
"Tax returns are hard. All done, but it's made me tired. Nobody ask me to do anything complicated today!"
Once April rolls around, many people try to recall if they ever learned how to do taxes.
"I'm glad school taught me all about parallelograms instead of how to do taxes. It's come in really handy this parallelogram season."
While taxes can be confusing and irritating to figure out, you can sometimes end up with a good chunk of money coming back to you. If you're in the giving mood, you can elect to donate some of your state tax refund to various causes by making a "voluntary contribution," according to a tweet from Colorado Parks and Wildlife.
"We can't make you excited about doing your taxes. But we can make you feel good while doing them."
Thankfully, the internet is also good for more than merely commiserating about the painful existence that is tax season. If you are looking for actual resources that can help you file your taxes before the April 17, 2018 deadline, you can use some these helpful tax apps that will help make sure you don't miss anything while completing your tax returns.
While tax season is definitely not the most wonderful time of the year, you can at least get through it with a laugh thanks to your fellow tweeting taxpayers.