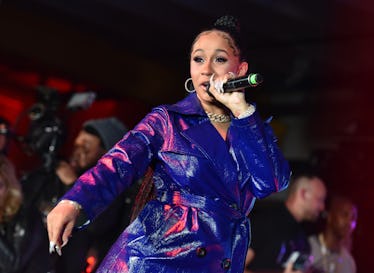 These Memes About Paying Taxes Will Get You Through Tax Season
Daniel Boczarski/Getty Images Entertainment/Getty Images
Hopefully I'm not the one to break this news to you, but it's currently tax season. It's not a favored process of many Americans, but there's no way to avoid it. Fortunately, the Internet is always abuzz with memes about paying taxes that should help you get through it.
The important thing to note is that if you file your taxes late, you'll likely to be hit with fees from the Internal Revenue Service (IRS) — but you can file for an extension if you think you won't be able to meet their April 17 deadline, per the IRS website. Plus, there's a wealth of applications and programs you can use in order to get the job done. Not to mention, if all your income is from a job that provides a W-2 form, you don't need to consult a tax preparer.
Are you already confused? You're not alone. According to a January poll conducted by TaxSlayer, 57 percent of Americans don't feel confident while doing their taxes.
Notwithstanding the fact that some regulations changed this year when President Donald Trump unveiled his tax reform plan, it can be a difficult process. (A recent poll by The Associated Press-NORC Center for Public Affairs Research found that Trump's approval ratings might have experienced a recent uptick because of his tax plan, though Trump himself has not disclosed his own tax history, and probably never will — at least, voluntarily).
Anyway, here are a bunch of relatable memes to distract you from your number-crunching: