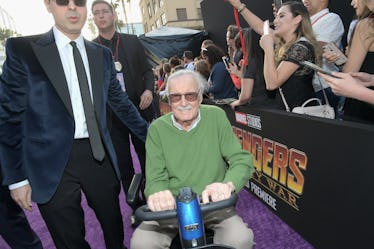 Fans & Celebrities Are Mourning Stan Lee On Twitter In The Most Heartbreaking Way
Charley Gallay/Getty Images Entertainment/Getty Images
Stan Lee, the man whose name has become synonymous with the legacy of Marvel Comics, has died. He was 95 years old. Born in 1922, Lee was the co-creator (along with the late Jack Kirby) of characters such as The Fantastic Four, The X-Men, Iron Man, Hulk, and Thor. He also co-created Doctor Strange and Spider-Man with Steve Ditko, as well as Daredevil with Bill Everett. With Kirby, Lee also engineered the idea of a comic book shared universe and the concept of The Avengers. These tweets about Stan Lee's death from fans show whatever the history books say about Lee's life and legacy, he touched millions.
Stan Lee's life was not unblemished. Plenty of comic book fans will tell you about his harsh relationship with former partner Jack Kirby. (Kirby himself in his later years called Marvel "thugs.") Lee was not someone who spearheaded diversity initiatives in his comic books or approved of recasting characters as women or people of color. And of course, there are the allegations of sexual misconduct toward the in-home nursing staff published by The Daily Mail, who claimed Concierge Nursing Care, who provided his nurses, reportedly stopped working with the family.
Lee's statement to Buzzfeed on these charges claim they are entirely false.
Mr. Lee categorically denies these false and despicable allegations and he fully intends to fight to protect his stellar good name and impeccable character. We are not aware of anyone filing a civil action, or reporting these issues to the police, which for any genuine claim would be the more appropriate way for it to be handled. Instead, Mr. Lee has received demands to pay money and threats that if he does not do so, the accuser will go to the media. Mr. Lee will not be extorted or blackmailed, and will pay no money to anyone because he has done absolutely nothing wrong.
But despite a messy legacy, Lee will be remembered as a man who changed the face of entertainment.
Others also recalled Lee's legacy didn't begin until he was already nearly 40.
For many, his work promoting Marvel into the mainstream will always be what defines him.
Fans weren't the only ones tweeting about it. Actors whose careers have been redefined by their characters in the Marvel Universe also spoke out on Lee's legacy.
Chris Evans, aka Captain America:
Patton Oswalt, who plays a recurring role in Agents of S.H.I.E.L.D.:
The Russo Brothers, who directed films from Captain America: Winter Soldier to the upcoming Still Untitled Avengers 4:
Winston Duke, whose breakout role of M'Baku in Black Panther this year made him a household name:
For some fans, it's the generational aspects of the Marvel comics that make them so unique, and Lee's promotion of them into the mainstream so important.
And of course, a few couldn't help but reference the Marvel films and comics in their tributes.
Rest in Peace, Stan Lee. As he used to say at the end of every Marvel Bullpen Bulletin: Excelsior!