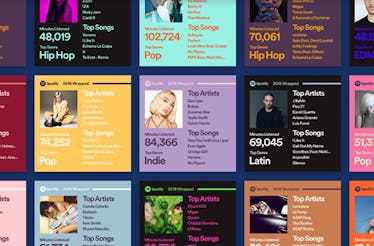 Some People Are Seriously Confused By Their Spotify Wrapped 2018 Results
Courtesy Of Spotify
As the year is slowly but surely coming to a close, I've started to look back upon 2018 in every way I possibly can. Aside from reminiscing over old photos, letters, and texts, Spotify has definitely come in clutch with its annual end of the year feature, Spotify Wrapped. While it's great to see what I've been listening to for the last 365 days, it looks like it isn't completely spot-on for everyone. That's right — if you haven't already seen these tweets about Spotify Wrapped 2018, a handful of Spotify users are pretty confused by some (or all) of their results. Yikes.
Every year, Spotify releases Spotify Wrapped, a feature which allows users to see their top-played tracks (in case you don't remember, they did it last year, too!). Just log in the music streaming platform's Spotify Wrapped page, and you'll be able to listen to all the artists, playlists, and podcasts you've jammed to throughout the year. You'll be able to uncover the songs and artists you've streamed the most, your top genres, your total minutes of streamed music, the number of artists you discovered, the very first song you played in 2018, your oldest throwback, and, most importantly, your top 100 songs that you played throughout the entire year. It's pretty rad, if you ask me, and the best part is that you can share your results to Instagram, Twitter and Facebook with a personalized Wrapped share card. Pretty sweet, right?
Even though Spotify Wrapped is a pretty awesome tool, the downside is that the results aren't always accurate. Several Spotify listeners took to Twitter to express their utter disappointment and confusion, as they were finding that they hadn't streamed several of the artists and songs Spotify Wrapped listed. Elite Daily reached out to Spotify to inquire why this might be, but did not hear back in time of publication. Anyway, Twitter was frustrated about these errors like no other, so check out their responses to the apparently-glitchy feature, below.
Other Spotify users, on the other hand, were not too surprised by their results. Luckily for them, their Spotify Wrapped results were pretty accurate, and they were able to properly reflect upon the year through music.
In the spirit of reflection, Spotify also recently released the app's Top Songs of 2018. And, as you would probably have imagined, Drake unsurprisingly dominated the top five. That's right — "God's Plan" and "Nice For What" made it to the top five, along with XXXTENTACION's "SAD!", Post Malone's "Psycho", and Juice WRLD's "Lucid Dreams." Those are some pretty solid jams, if you ask me.
OK, I don't know about you, but my Spotify Wrapped is super off, and based on Twitter's responses, it looks like I'm not alone. While I wish I spent seven full hours of 2018 jamming to Solange, I definitely didn't, but maybe that should be my New Year's goal. I guess this is my chance to start off the new year with a bang.