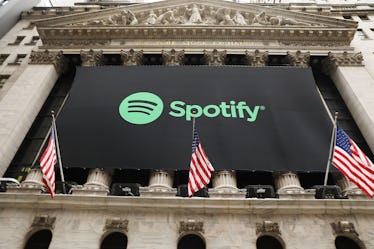 Spotify's Top Songs Of 2018 Sum Up The Year So Perfectly It's Scary
Spencer Platt/Getty Images News/Getty Images
With a month less to go in 2018, all I can say is, wow, what a year it has been. It has been a whirlwind of news events and everything in between. But there's nothing like the tune of a good song to keep you going when the world, uh, seems a little wild. You've probably got your own playlist for when the going gets rough, but Spotify's top songs of 2018 say so much about what this year has been.
According to Spotify, 191 million people across the globe streamed music from the app in 2018. What were they listening to? Spotify has rounded up the top songs of 2018. You probably won't be too surprised by most of these, and chances are these songs made an appearance or two in your listening cue this year. These are the top songs of 2018 that made the list for listeners in the U.S., according to Spotify:
God's Plan - Drake
SAD! - XXXTENTACION
Psycho (feat. Ty Dolla $ign) - Post Malone
Lucid Dreams - Juice WRLD
Nice For What - Drake
Yeah, basically. It has been a huge year for Drake, so it comes as no surprise that he made the top five twice. The rapper released his fifth album Scorpion in late June and, almost right away, the album got 10 million streams per hour, according to Spotify. "God's Plan," which was an instant hit, always seems to be playing no matter where I go. Kudos to Drake for claiming the No. 1 spot.
Allow me to break down the rest of the top songs. We can't talk about 2018 without rehashing XXXTENTACION's song "SAD!" The song touches on his bouts of depression following the end of a relationship. Been there, done that. Gotta be honest though, the title alone reminds of something President Donald Trump might say. (Kinda like this tweet from January 2016.)
I'm seriously having a moment over Post Malone. He is easily my favorite new artist. It seems I'm not alone in my feelings since his song "Psycho" made the top songs of 2018, according to Spotify. It's been a year of craziness — and the nonstop news cycle does not seem like it will be slowing down anytime soon. Which brings me to "Lucid Dreams" by Juice WRLD, because that's basically what I've been having all year long.
If you're curious, Spotify also released information about the top most streamed albums of 2018 based on data from the streaming serving. Here are the top five albums that made list:
Scorpion - Drake
beerbongs & bentleys - Post Malone
? - XXXTENTACION
Dua Lipa - Dua Lipa
Divide - Ed Sheeran
Right now, you can get three months of Spotify Premium for $0.99 a month for the first three months. After that, the cost per month jumps to $9.99, but that's really not so bad considering you will have access to all of your favorite music, sans commercials. If 2018 is anything like 2019, you are going to need music to help you get through it. Might as well sign up for a Spotify account now. Here's to hoping that 2019 brings just as many amazing songs as 2018 did, but with a little less madness.