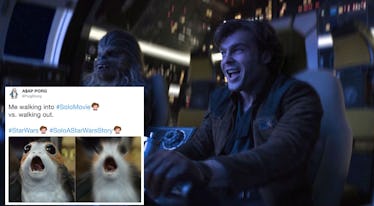 These Tweets About 'Solo: A Star Wars' Story Show Fans Are Completely Freaking Out
LucasFilm
The origin story that has been over 40 years in the making is finally here, and of course, fans cannot get enough. After Solo: A Star Wars Story landed in movie theaters on Friday, May 25, Twitter blew up with with all sorts of reactions, jokes, theories, and memes about the latest addition to the Star Wars saga. To continue enjoying the new movie, check out the best tweets about Solo: A Star Wars Story below.
Spoiler alert: The following tweets and content include very mild spoilers for Solo: A Star Wars Story, so proceed at your own risk. In the new movie, Alden Ehrenreich portrays a younger version of the intergalactic smuggler Han Solo, the role that Harrison Ford made famous in the original Star Wars trilogy throughout the '70s and '80s, and later revisited in 2015's Star Wars: The Force Awakens. Ehrenreich's version of Solo provides an entire backstory to what the ace pilot was up to before running into Luke Skywalker at that cantina in Star Wars: A New Hope. The character has always been something of a mystery to fans, so getting a whole original story dedicated to him was definitely a huge treat for Star Wars devotees.
Solo: A Star Wars Story hit on some hugely emotional moments in the franchise's history, such as Han Solo meeting Chewbacca for the first time, and Solo climbing aboard and piloting the iconic Millennium Falcon for the first time. It also introduced a ton of engaging new characters, and even surprised audience by bringing back some surprising old ones that we were not expecting. Despite the immense love for Han Solo, there was still a faction of the fandom that was not sold by the trailers for Solo and worried the origin story would fall flat, but after seeing the movie for themselves, the responses clearly show that Alden Ehrenreich did an amazing job impressing both casual movie fans as well as the skeptical Star Wars diehards.
Check out all of the best tweets about Solo: A Star Wars Story below:
Although some fans were predicting that Solo: A Star Wars Story might underperform compared to the recent Star War films of the 2010s, the fan response on Twitter from those who have already seen the movies seems to be nearly universally positive. Fans are praising Alden Ehrenreich for capturing the roguish charm that Harrison Ford so famously imbued in the character of Han Solo. Ehrenreich had to beat out a number of famous, young actors to land the iconic role, including big names like Dave Franco, Miles Teller, and Ansel Elgort. In the end, it really feels like the casting agents made the right choice.
And of course, Donald Glover's smooth and seductive take on a young, gambling-addicted Lando Calrissian was a huge hit with audiences. Many are even expecting Glover to land his very own Lando Calrissian standalone movie within the Star Wars franchise sometime soon. Lucasfilm president Kathleen Kennedy teased that a Lando movie is a possibility, and Glover has stated that he imagines the possible movie as being something akin to Frasier in space. That would definitely be a whole new take on a Star Wars movie.
But for right now, fans are still digesting the newly released Han Solo movie, which diehard Star Wars fans will likely be seeing again and again while it is still in theaters. You can expect to see your Twitter feed blowing up with even more Solo: A Star Wars Story reactions and theories in the coming weeks.