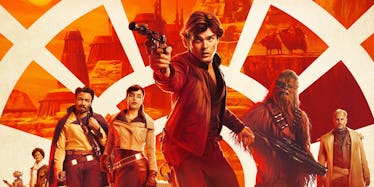 5 'Star Wars' Facts Fans Should Know Before Seeing 'Solo: A Star Wars Story'
Lucasfilm
Solo: A Star Wars Story is the second "stand alone anthology" film that Lucasfilm has attempted since Disney took the reigns. The first, Rogue One: A Star Wars Story, was a one-shot deal with no prequel and no sequel. (Well, OK, maybe one could consider A New Hope the direct sequel.) That showed how the plans for the Death Star came to Princess Leia. Now we have Solo, which shows how Han Solo came to be who he is. Before heading to the theater, here are some Star Wars facts to know ahead of Solo: A Star Wars Story.
One of the biggest is that Solo was actually a long time coming. Before Lucasfilm came to a deal with Disney in 2012, they were looking at other options, including having George Lucas start up the film production arm again for live-action films without help. (They would be the first since 2005's Revenge of the Sith.) In preparation for that Lucas himself wrote a treatment for Star Wars: Episode VII. Meanwhile, he hired his old friend Lawrence Kasdan to come in and put together a script for "a stand-alone" Han Solo movie.
Then the Disney deal came through and Kasdan got moved over to writing the new Episode VII for his new bosses. But Kathleen Kennedy liked the Solo concept and held on to it, and the rest is history.