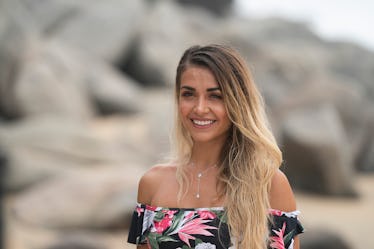 Bachelor Nation Can't Believe Shushanna Turned Down A Date With Jordan For Kamil
ABC/Chris Sjodin
Shushanna may be one of the later additions to Bachelor in Paradise Season 5, but that doesn't mean she doesn't have drama up her bikini strap. The Bachelor and BIP alum touched down in Mexico on Sept. 3's episode, joining the already lopsided ratio of women to men at a stage in the game when many couples have established relationships. Jordan saved her with a rose, but she's clearly still got Kamil on her mind, even rejecting other offers to go out. These tweets about Shushanna turning down Jordan's date on Paradise show that Bachelor Nation is definitely confused by her actions.
Kamil is coupled up with Annaliese right now, although their courtship didn't stop Shushanna from continuously expressing her interest in him. And, apparently, he took notice without her even saying a word.
"I always catch her like staring at me. It's like an owl," Kamil noted on Tuesday, Sept. 4's episode, referring to Shushanna after the gang played an awkward game of truth or dare, also calling her "piercing eyes" creepy.
But here's the thing: Shushanna is certain Kamil isn't really into Annaliese (or "the blonde girl," as she refers to her even though she must be aware of her name by now). "I know he does feel something toward me too," she added. "I'm not making this up. I'm not crazy. I see it."
When Kiwi Jordan tried to pursue Shushanna and take her on a date, she wasn't down with it at all. She rebuffed the invitation and went ahead and pulled Kamil aside to tell him her true feelings. He broke it to her (again) that his heart wasn't feeling it.
Still, she seemed convinced something might transpire between them based on Paradise's surprising track record.
"Is it possible that Kamil and I can be together? Probably!" she declared confidently. Bachelor Nation was subsequently shook over her choice to put all her eggs in the Kamil basket when he's obviously tied to Annaliese and totally not into her. Limiting one's options is probably not the most strategic BIP move.
Viewers aren't the only ones who have something to say about Shushanna's narrow approach. Annaliese wasn't exactly pleased and confronted her in a "that's my man" kind of conversation that turned ugly, even asking if she was a witch performing spells so Kamil would fall in love with her. Um, what? Witchcraft, spells, and trash-talking!? What kind of a Paradise experience is this? Shushanna only just got here and she's dealing with accusations of dabbling in witchcraft? No matter how into Kamil Shushanna is, maybe that wasn't the right way to go about inquiring about it.
This isn't Shushanna's first rodeo in Mexico. After leaving Ben in Season 20 of The Bachelor in week 3, the Uzbekistan native headed to Bachelor in Paradise's third season. She actually connected with Wells (who's currently slinging drinks as the show's resident bartender and dating Modern Family's Sarah Hyland IRL), but ended up exiting on her own terms when she decided she didn't want to fight for someone. Fair enough? She discussed the choice to Glamour, explaining that even though she clicked with Wells and had a great time, there was a feeling she couldn't shake. Shushanna said,
I kind of felt that something more was going on inside me. Something I can't get over and just focus on being there with everyone with other contestants and trying to even talk to Wells and see what it's going to take for us. I just decided to leave.
But Shu has obviously come around to the idea of fighting for a rose since her past stint on the show. She literally said the words "sometimes you have to fight no matter what" when Eric decided to exit prematurely after breaking down over his conflicted feelings. She hasn't exactly been afraid to put herself out there. Shushanna even admitted she's attracted to Kamil because she "likes a challenge." It's hard to know what she actually wants.
In the wise words of Venmo John: "Will the real Shushanna stand up?"
The episode, unfortunately, ended with her in tears when she finally decided she wanted to give things a go with Jordan, only to be rejected because he hit it off with Cassandra. Hopefully, things will get easier for Shushanna next week.