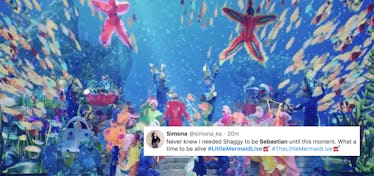 Twitter Cannot Get Over Shaggy As Sebastian On 'The Little Mermaid Live'
ABC
The Little Mermaid Live is full of wild moments, but one star in particular is getting the crab's share of attention from viewers. These tweets about Shaggy as Sebastian in The Little Mermaid Live show just how invested fans are in his live-action role. Whether you loved it or found it a little fishy, his performance just might be one for the history books.
The Little Mermaid Live offered Disney fans a unique hybrid show that combined scenes from the original animated movie with live performances. The cast included Auli'i Cravalho as Ariel, Graham Phillips as Prince Eric, Queen Latifah as Ursula, and, of course, Shaggy as Sebastian the Crab. A lot of fans were super excited for Shaggy's star-turn on stage — in fact, after seeing his performance, some people even want to see him take on the big screen in the upcoming live-action feature film version of The Little Mermaid as well.
Then, there were the fans who were on the other side of the seaweed fence, and they were a little more suspicious of Shaggy as Sebastian. But regardless of how fans felt, it's unquestionable that they couldn't take their eyes off the artist in The Little Mermaid Live.
Though most people were on board with his singing and acting, a lot of people found his costume pretty questionable. Shaggy opted for a slimmed-down red suit for his Sebastian getup, and some fans thought he looked a lot more like a pop star or a comedian in a tracksuit than a musical crab. After all, is a crab even a crab if he's not in a full crab costume?
Shaggy led the iconic Little Mermaid songs Under the Sea and Kiss the Girl. But some viewers are still looking forward to more from the vocalist, like some mashups of Little Mermaid songs with some of his classic hits.
At one point during the show, John Stamos, who was playing Chef Louis, ad-libbed a line about how he should have been cast in a different role. Well, as amazing as it would have been to see him step into the crab claws, I think it's safe to say that fans are pretty grateful they got the chance to see Shaggy as Sebastian.