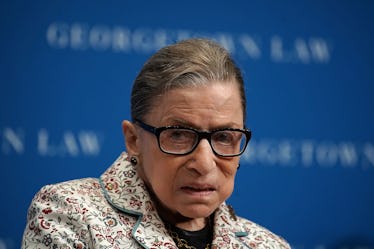 Twitter Is Offering RBG Anything She Needs — Literally — After Her Hospitalization
Alex Wong/Getty Images News/Getty Images
Take a deep breath: Ruth Bader Ginsburg was hospitalized on Wednesday, Nov. 7 after she fell in her Supreme Court office, according to CNN. The Supreme Court Justice, 85, has three fractured ribs, according to a statement from the Supreme Court. Naturally everyone wants to help out our Notorious RBG, so these tweets about Ruth Bader Ginsburg's hospitalization are offering anything she needs. Literally anything.
Ginsburg, after falling, returned to her home and then experienced some "discomfort overnight" and was hospitalized early Thursday morning for "observation and treatment," according the statement from the Supreme Court. Ginsburg is an icon and of course everyone is wishing her a fast an easy recovery, but some people on Twitter are really going all out. Oh, and by all out, I mean the Twitterverse is ready to donate petty much anything Ginsburg needs — including some essential body parts. Yes, body parts.
Upon hearing the news that Ginsburg fractured three of her ribs, an abundance of Twitter users offered to give the Supreme Court Justice their own ribs. Some users, despite the injury being contained to just the ribs, offered up their kidneys, bone marrow, and even a liver (which BTW you only have one of and kind of need).You get it, RBG can have whatever she needs.
Of course the world can try to heal Ginsburg with new ribs and other assorted body parts, but some users didn't like the fact that anything could harm the justice at all. So, in an effort to keep her safe, some folks came up with a bright idea — TBH, I'm on board.
If this GoFundMe is happening can someone drop me a link because I have a savings account I'm not doing anything with.
There's also a backup plan in place.
While I'm sure everyone wants Ginsburg to live forever, you'll notice that a lot of the tweets have a two-year marker on them, because that's when the next presidential election is. Why is that important? Well, it means the sitting president could pick a new Supreme Court Justice should Ginsburg no longer be able to serve. It wasn't that long ago (although it feels like forever) that Trump tapped Brett Kavanaugh on July 9 as his nominee for the Supreme Court to take over for retiring Justice Anthony Kennedy. Kavanaugh was a contentious candidate from the beginning because he was predicted to swing the bench conservative — especially on issues regarding reproductive rights. For example, in 2015 he dissented from the decision to uphold birth control requirements laid out in the Affordable Care Act (ACA), siding with the employer who opposed providing birth control to his employees are religious grounds.
The road to Kavanaugh's confirmation only got worse as three women came forward to accuse him of sexual assault and misconduct. Kavnaugh denied all the allegations. Elite Daily reached out to representatives of Kavanaugh for comment on all the allegations, but did not hear back. On Sept. 27 Christine Blasey Ford, the first woman to level allegations of sexual assault against Kavanaugh, testified before the Senate Judiciary Committee, and later the FBI conducted a "limited in scope" investigation into the claims against Trump's SCOTUS pick. However, Kavanaugh was still confirmed to the bench in October, according to The New York Times.
If Ginsburg can no longer work and has to resign from the Supreme Court before 2020, then Trump could possibly nominate yet another justice to the bench — and everyone saw how that last one went. Stay healthy, Ruth! Twitter is rooting for you.