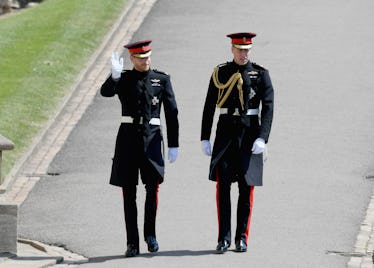 These Hilarious Tweets About Prince Harry At The Royal Wedding Prove The Thirst Is Real
Shaun Botterill/Getty Images Entertainment/Getty Images
It was just seven years ago that Prince Harry, Duke of Sussex stood beside big brother Prince William, Duke of Cambridge as the world watched him wed his college sweetheart, Kate Middleton, Duchess of Cambridge. Throughout all of the centuries-old traditions, glitz, glamour, and A-list guest list, there was one person who stood out to the internet and landed on countless memes the next day. Of course, that was none other than Prince Harry, the "spare" to the thrown, known for his charitable work and sense of humor in royal situations. And now, people are found that same light-hearted spirit at his own wedding to Meghan Markle. Tweets about Prince Harry at the Royal Wedding are all about showing love for the prince, and fans couldn't be more excited for Harry on his big day.
There were so many reports of Harry playing practical jokes on William on his wedding day, that Prince William reportedly recently joked that "revenge is sweet," when asked about his part in Harry's wedding, according to Elle.com. Then, of course, there was the question of what Harry really whispered to Prince William when Kate was walking down the aisle. Some reports suggest that Harry said, "Wait till you see her," while others suggest he was simply alerting William to Kate's presence. Either way, Harry's smirk stole the show at the wedding, and it was a moment people couldn't stop talking about afterward. Fans were eager to see if Harry would have the same relaxed attitude at his own wedding, or if he'd be a bundle of nerves to wed fiancée Meghan Markle. From the first moment Harry appeared at Windsor Castle, Harry seemed a bit nervous, but looked better than ever — beard and all.
Beard Or No Beard?
The fact that Prince Harry wore his beard in full to his wedding is a huge break in royal tradition. According to NBC commentators, Prince Harry wearing his beard doesn't break any military rules, since he's currently not an active member of the military. Harry also hasn't been spotted without it in a number of years, so it makes sense that he would want to appear how he always does for his bride on their special day.
It Didn't Take Long For People To Start Swooning Over Harry
Stop. It. Harry handpicked flowers for Meghan on their special day? The prince could have literally had anyone do this for him, but he wanted to be a part of Meghan's gorgeous look for the day. I was already swooning over her Givenchy dress, but now that I know Harry handpicked flowers for her bouquet, I can't stop thinking about her flowers.
When Meghan Walked In, The Swooning Doubled
There Was Some Speculation As To What Harry Actually Said To Meghan At The Altar
Ahh, I'm no lip reader, but I'm officially subscribing to the notion that Harry definitely told Meghan she looked amazing. My only question now is, how are they both not totally sobbing? Not that I am, of course...
And Of Course, No One Could Get Over The Way He Looked At Meghan
Seriously. No other guy will ever be accepted into my life unless I'm looked at like this constantly. I'm not just talking about on my wedding day, either. I expect Prince Harry to Meghan Markle looks 24/7 from now on.
It looks like the royal wedding didn't disappoint. Harry rocked his beard, Harry cried, and Meghan, of course, looked amazing. I have no idea how she kept it together, but I guess she's already ready to be a poised royal. Congrats to the newlyweds!