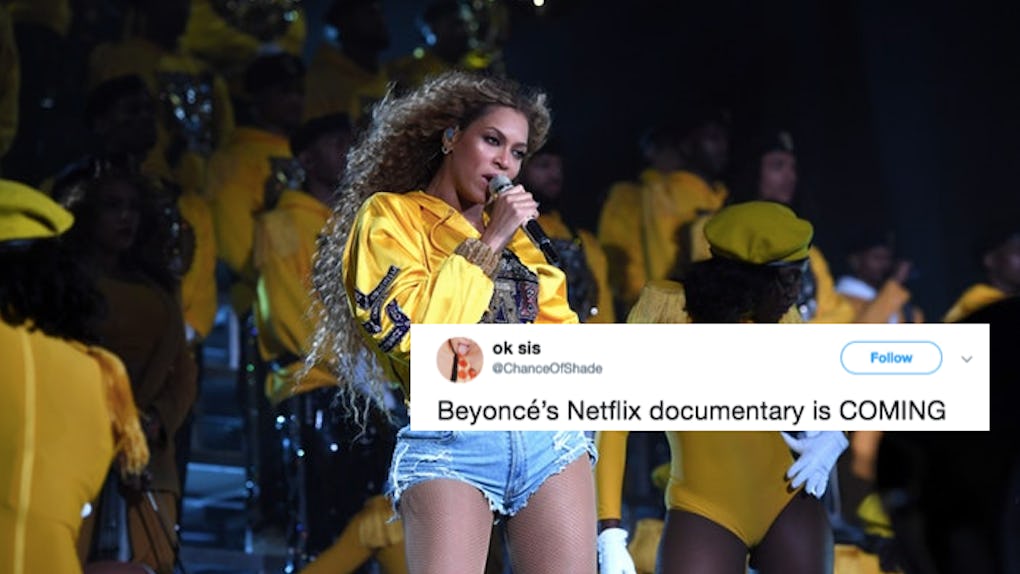 Larry Busacca/Getty Images Entertainment/Getty Images
These Tweets about Netflix's 'Homecoming' Beyonce Documentary Are So, So Hype
If you're as big a fan of Beyoncé as I am, you've probably heard a thing or two about the Queen's Netflix special that's reportedly in the works, called Homecoming. Not many details have been released, but as you would probably imagine, I am excited beyond belief. However, it looks like I'm not alone. If you haven't already seen these tweets about Netflix's Homecoming Beyoncé documentary, they definitely show that everyone is hella excited for the new film.
On the morning of Sunday, April 7, something totally ground-breaking happened for those who consider themselves part of Beyoncé's fanbase, which is mostly widely known as the Beyhive.
Netflix tweeted out a post featuring an all-yellow background that said "Homecoming" in large Roman-style font. It also included a release date at the bottom that read April 17. Other than that, there was no other additional information, and to someone who isn't a hardcore Bey fan, they wouldn't see it as a confirmed Beyoncé special. But if you love the R&B/pop/hip-hop goddess like I do, you're well-aware that this is actually a sign for an upcoming Beyoncé Netflix special. Again, nothing has been confirmed beyond the poster with the date yet, but it's a theory that I'm definitely behind. Check out their original tweet, below.
I know, Netflix's highly ambiguous tweet probably looks quite vague and nondescript to a non-Beyhive member. But in my eyes, it totally makes sense. Queen Bey's latest clothing line is called Homecoming. Plus, the star is known for rocking the color yellow — Beyoncé's yellow dress from the "Hold Up" music video is totally iconic, one of her latest albums is called "Lemonade," and she wore a yellow hoodie at her 2018 Coachella performance that gained a ton of attention. Plus, the black font on the yellow background somewhat resembles a bee (and she is Queen Bee). The proof is totally in the pudding, and as you can see, fans working hard to prove that it's actually going to happen.
As you'd probably imagine, Twitter is going wild about the prospect of a Beyoncé Netflix special. I mean, seriously — what could that mean, and what will it entail? A performance? Maybe a few interviews, or a tour inside Bey's house? Honestly, 'Yoncé could sit there for an hour and I would be ogling in her mere presence. As you would imagine, Twitter is going wild over the prospect of all this, because it's seriously exciting.
Some, however, are preparing to be disappointed. I mean, it seems like it's going to happen, but what if it isn't, per chance, related to Beyoncé? Again, all of it is yet to be confirmed, and nobody wants to get their hopes too high.
So there you have it. A Beyoncé Netflix special may actually be in the works right now, and as you probably would have guessed, the Beyhive is going wild. Will it be a recap of Beychella, or will it be completely different? Nobody knows, but I'm literally excited out of my mind right now.