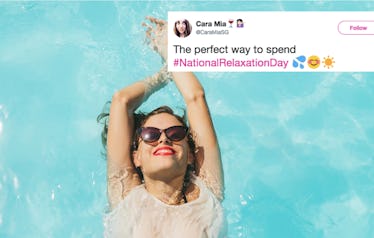 Take A Moment To Chill Out With These Hilarious National Relaxation Day Tweets
Most people have an ideal way of relaxing. For some, it may be on the beach with a good book or catching up over lunch with friends. For others, it could mean watching Netflix in bed for hours on end. National Relaxation Day is celebrated annually on Aug. 15. This year, the unofficial holiday falls on a Wednesday. Chances are you are probably reading this at the office since National Relaxation Day falls smack dab in the middle of the workweek. Wherever you are, these tweets about National Relaxation Day will make you want to chill out.
National Relaxation Day was started in 1985 by a fourth-grader named Sean Moeller, according to the Des Moines Register. Moeller is the self-proclaimed founder of National Relaxation Day, according to what appears to be Moeller's Twitter profile. In an interview with the Des Moines Register, when Moeller was elementary school student, he claimed that people should do nothing on Aug. 15.
Since then, it seems as though the world has followed his lead, because National Relaxation Day is alive and well on Twitter. For example, take this chilled-out otter from the National Park Services' Twitter account. This little guy has it made. There's nothing I'd rather be doing right now than floating downstream without a care in the world.
The Mayo Clinic recommends a few relaxation tips to help reduce stress and anxiety, such as taking several deep breaths in a row, getting a massage, practicing yoga, and listening to music. Practicing these relaxation techniques can help lower your blood pressure, reduce anger and frustration, improve your sleep, as well as boost your concentration and mood. You know what else can help? Looking at more adorable animal pictures (and videos). That's just my take, anyway. For example, this cow getting his chin scratched by a motorized brush. This guy is living his best life.
Honestly, this puppy is speaking to me right now. Sometimes, when life gets to be a bit too much, I also plop down on the floor and refuse to be taken anywhere. OK, well maybe if you drag me.
OK, more cute dogs for you. Seriously, though. Dogs are the answer to almost any problem. I have two English bulldogs, and whenever I'm feeling stressed or like there's too much going on, I just take a page out of their book and chill. I think this little pup may have just inspired me to crawl back in bed for an afternoon nap. That sounds like the best way to spend National Relaxation Day, IMO.
Reading can reduce stress levels by up to 68 percent, according to a student published in the Telegraph. If you haven't curled up with a good book recently, you're missing out. Looking for a few recommendations? I'm currently loving "Hey Ladies!" by Michelle Markowitz and "And Now We Have Everything" by Meaghan O'Connell. Of course, you can always count on The New York Times for a solid list of books to read while you relax.
On a different note, it's still summertime. If you've got the day off and have access to a pool (or some kind of refreshing body of water), I recommend going for a swim. Or, you can float in this adorable heart innertube from Ban.do while you bask in the sun. Now, that's relaxation at its finest.
Make sure that you take a little time for yourself today. Kick back, relax, and do something (or nothing at all) that helps you de-stress. A little self-care never hurts anybody. Not even your nonstop friend who claims there is no time like the present to get things done. Happy relaxing!