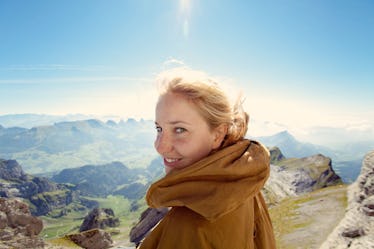 Here's How People Relax Around The World, In Case Your Self-Care Needs Some Inspiration
What does a little R&R look like for you? It's fascinating when you find out how people relax around the world compared to how you've grown accustomed to decompressing, because when it comes to the activities or foods that someone considers "soothing," it really is so subjective. For me, an integral part of self-care is a large mug full of something warm to sip on, but maybe your ideal moment to unwind features a tall glass of wine. If I were to go that route, I'd personally prefer a bottle of white or pink, but for those who fancy red wine, there's a salon in London that now offers wine bath therapy where, instead of bubbles, you can soak your troubles and ease your mind in a tub of merlot. Sounds super fancy, right?
Well, that's not the only unique self-care trend sweeping the world outside your time zone. Elite Daily received the results of Currys PC World and Samsung's Time Well Spent campaign, which highlights unique self-care and relaxation rituals from around the world. From casual coffee breaks to yoga classes meant to make you double over with laughter, these are the brilliant activities and clever, subtle behaviors that have people living a little bit easier, day by day. My advice is that we all pick our favorites and follow suit.