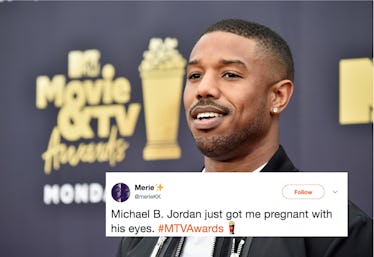 Fans Were So, So Thirsty For Michael B. Jordan At The MTV Movie & TV Awards
Frazer Harrison/Getty Images Entertainment/Getty Images
Twitter is going nuts over Michael Bae — I mean, Michael B. Jordan. In addition to winning the Best Villain award for the critically-acclaimed superhero film Black Panther at the 2018 MTV Movie & TV Awards, he showed up to the ceremony flaunting his charming smile and perfect dimples, which has many social media users swooning. IDK about you, but TBH, the tweets about Michael B. Jordan at the MTV Movie & TV Awards are an entire mood.
Social media users (understandably) couldn't keep their eyes off Jordan when he accepted the golden popcorn for Best Villain. He cracked a joke about Roseanne Barr, saying, "I thought for sure Rosanne had [this award] in the bag." He also hilariously begged his fans to stop bombarding his Black Panther co-star Chadwick Boseman with requests to do the "Wakanda Forever" salute on the street. It really was one of the best moments of the evening, if you ask me, but apparently no one was even listening to his comments, because most tweets about his appearance solely focused on how stunning he looked.
One user joked that the actor had gotten her pregnant with his eyes.
@dejaistired said Jordan will "always and forever be fine," and I can't disagree.
One user wrote, "michael b jordan, will i ever get tired of thee? lmao never," and, same.
Another user wrote, "When Michael B. Jordan looked at the camera, I had to run to the store to get a pregnancy test."
Host Tiffany Haddish, who has often expressed her admiration of the Fahrenheit 451 actor, had also joked that Jordan got her pregnant just by looking at her during the show's opening. She performed a parody of Cardi B's chart-topping 2017 hit "Bodak Yellow," sporting a white dress and a bulging, inflatable baby bump.
As it deflated, she joked, "Oh, that was just gas."
Other users couldn't get over his dig at Barr.
@AuthorRandallB wrote that Jordan was "killing it" because of his shot at Barr.
Barr has certainly been viewed as a villain to some after her explosive Twitter rant back in May, in which she lashed out against White House aide Valerie Jarrett by saying she looked like a combination of "Muslim brotherhood" and "Planet of the Apes." Although Barr apologized for her comment, saying she "should have known better" and that the joke was in "bad taste," the backlash was so bad that ABC ultimately pulled her show off the air. So you've gotta admit: Jordan's comment was pretty funny (and spot-on).
Anyway, as for us Jordan admirers, he might be returning to his role as Killmonger for Black Panther 2 some time soon. In an interview with MTV on June 18, he explained:
I mean, I'm a fan, as you said, of Marvel, of comic books, everybody knows that. So I mean if there was ever an opportunity for me to come back and like join this universe and work with like Joe Russo, Kevin Feige, Victoria [Alonso], and everyone over there at Marvel, re-team with Ryan [Coogler] you know, of course I would.
SPOILER ALERT: considering Jordan's character passed away in the first film, it'd be a pretty hard feat to pull off, but if there's any opportunity that Jordan could return to the series, I'd sign up for that. How do we make this happen, guys?
Ah, who knows if it's gonna happen or not. But no matter what film he does, one thing is for sure: he's definitely gonna be hot.