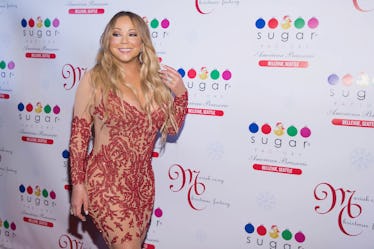 Mariah Carey Is Performing On NYE Again & Twitter Is Really Concerned
Mat Hayward/Getty Images Entertainment/Getty Images
Last New Year's Eve, if you weren't too busy drinking bottomless champagne or dancing the night away, it's likely that you ate some snacks and maybe even turned on ABC's popular holiday segment, New Year's Rockin' Eve. Aside from some sweet performances from DNCE, Thomas Rhett, and Gloria Estefan, however, you may remember Mariah Carey's, um, quite memorable performance. Despite her mishap last year, however, ABC just announced that they have invited her back to Times Square for a little redemption... but the tweets about Mariah Carey performing on New Year's Eve again are super uncomfortable.
Carey's performance last New Year's Eve didn't quite go as planned, and honestly, it was pretty embarrassing to watch. During her (insanely catchy) hit, "All I Want For Christmas Is You," she kept repeatedly pausing, looking very upset, while a pre-recorded track played in the background. Audience members, as well as TV viewers, were beyond disappointed to discover that she had been lip-synching during her performance, and that she didn't finish the song.
According to Fox, Carey's team followed the performance with an accusation against the production company, believing that they purposely set up the technical issues. Mariah claimed that she was given a broken ear piece, which is clear from the fact that she kept holding her ear. The production company, however, said her performance was a bust because she didn't bother rehearsing.
After New Year's Eve, in spite getting serious flack on the internet, Carey totally redeemed herself. Poking fun at her mishap via social media, she posted a tasteful and #relevant meme, and that's when we all kind of thought that all of it was something to look back on, and laugh about in years to come. To everyone's amazement, however, Dick Clark Productions has invited her back to perform for this year's New Year's Rockin' Eve. Fans of the show are shocked and disappointed, while others just can't believe that she was actually brought back on to perform. A handful of us are really just cheering her on, though, because she has major guts for coming back after such an awkward performance. We're just hoping for a better one this time.
It's understandable as to why people are salty about Carey's NYE redemption performance. After a rough one last year, some of us are honestly consumed with dread... and are possibly convinced that she kicked off the train-wreck that was 2017.
On the other hand, some are just incredibly shocked that Carey could have ever been invited back to Times Square at New Year's Eve... which is only based on last year's incident, which didn't quite go as planned.
Carey's hardcore fans and girl-power boss queens, however, are cheering her the heck on. Attempting a come-back and just performing again in this environment in general is so brave. But honestly, she isn't called the Queen of Christmas for nothing, is she?
Though we're extremely hopeful for a more successful round two, Carey's mishap on New Year's Eve 2017 wasn't actually the first of her bizarre and memorable holiday performances. In 2014 at Rockefeller Center, the singer was having an inordinate amount of trouble hitting her classic and highly-esteemed high notes during "All I Want For Christmas." Audience members were also extremely disappointed back then, but they seemed to realize that not being able to hit the notes wasn't entirely Carey's fault. In spite of her 2014 and her 2017 disasters, however, some of us are still on Carey's side, and we are forever cheering Mimi on. No matter what the haters say, Mariah Carey truly deserves her given title as "Queen of Christmas."
Check out the entire Gen Why series and other videos on Facebook and the Bustle app across Apple TV, Roku, and Amazon Fire TV.