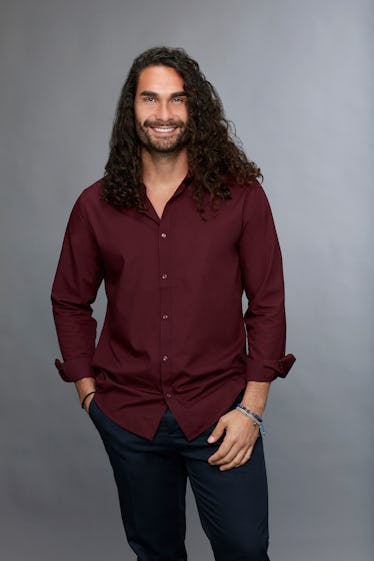 These Tweets About Leo's Explosion On 'Bachelor In Paradise' Took Over The Internet
ABC/Chris Sjodin
Pro tip, guys: Leo doesn't appear to take kindly to so-called tattletales... or rejection. The Becca Bachelorette season alum had a touchy outburst on Tuesday, Aug. 28's Bachelor in Paradise and his highly charged actions were met with shock from his fellow cast members. Everyone around him was shook and ready to see him go home, and these tweets about Leo's explosion on Bachelor in Paradise show that fans of the series were too.
"Paradise needs to burn to the ground and start fresh. Maybe that's what we need to do," Leo said ominously before the pre-rose ceremony cocktail party, pretty much sure that he would not be receiving a rose. Well, Leo didn't literally start a fire, but he did spark quite the emotional blow-up.
"Good luck with grocery store b*tch!" Joe exclaimed to the entire group in a "toast" that should really be described as a roast.
"I'm looking around the room and I'm kind of seeing a lot of people who are full of s*it," he addressed the room, before telling Kendall she was too. He then proceeded to yell "I'm out!" and throw a glass of what looked like water on Joe when he went to defend her. Hmm. That was not exactly the best last impression to make in Paradise.
"Get outta here, Tarzan! We don't need your drama," Tia even commented in her interview.
Of course, Twitter did not hold back when it came to commenting on Leo's intense behavior.
Trouble began brewing on last night's episode after Leo got into it with Kevin, and subsequently Kendall, about his kiss with Chelsea. Leo and Kendall hit it off following a steamy date and their connection had her split between her new feelings for him (she said she "craves" him) and the bond she had built with Joe from the start. What she didn't know was that Leo had also smooched Chelsea. Kevin, assuming she was aware of said makeout, accidentally spilled the beans to her in a friendly heart-to-heart. When Leo found out someone had "ratted" him out, he was not pleased.
"Kendall and I had a phenomenal date, but some rat tells Kendall that I kissed Chelsea. Now it's all gone to pieces and I'm pretty sure that I'm going home," Leo said on Monday night's episode. "A snitch needs to put in his place."
Leo and Kevin then got into a war of words where Kev confessed he never intentionally meant to blow up Leo's spot — although he did think the right thing to do was to be upfront with Kendall about his other romantic ventures. This got Leo even more heated since he felt he could divulge info on his own terms, especially since "everybody was kissing everybody." His mini-meltdown resulted in a cringe-worthy back-and-forth convo with Kendall, who admitted she was "heartbroken" by his reaction to the entire situation — especially after he accused her of faking her emotions.
On tonight's episode, Kendall had a complete change of heart regarding the Los Angeles stuntman and became ready to commit to Joe in a major way. Despite that whole kissing John thing, they finally solidified their boyfriend-and-girlfriend status. With Leo out of the picture, hopefully they won't be running into more hurdles along their way.