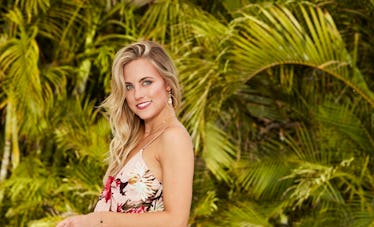 Kendall Kissed John On 'Bachelor In Paradise,' So Bachelor Nation Is So Done With Her
ABC
So, Bachelor in Paradise is really bringing the drama this week. Not only has Kendall two-timed Joe with Leo, but she also kissed John. And that's really throwing fans for a loop. All the tweets about Kendall kissing John on Bachelor in Paradise show just how dumbfounded everyone is about all these new developments and her indecisiveness considering Joe the Grocer - I repeat, JOE THE GROCER - is all in.
Just to recap what's been happening with Kendall: she's been connecting on a serious level with Joe the Grocer, but briefly left him behind when Leo entered the picture. Unfortunately, Leo was super rude to her and decided to explore his options with other women in paradise. Naturally, Joe didn't take too well to this and defended Kendall's honor, which Leo wasn't feeling at all. Eventually, Kendall and Joe kissed and made up and recommitted to one another.
But that all changed when John asked Kendall to hang out with him in one of the cabanas. While he was totally aware that Kendall is with Joe, John was gunning for a rose, which wasn't a sealed deal for him.
"Kendall and Joe are really close, and women have the power. I have no idea if I'm going to get a rose at this next rose ceremony, but Kendall and I, since day one, have had something," John said on the show. "I don't know what that is yet, but I want to see what happens next."
As they chilled in the cabana, John was putting all the moves on Kendall. But she wasn't totally sure what she wanted. She knew she had feelings for Joe, but that didn't stop her from sharing a kiss with John.
And fans weren't feeling it. Not one bit. Here's what they're saying on Twitter:
And this fan even went as far as to mock Kendall and her wishy-washy mindset when it comes to love:
Oof! It's pretty clear that fans are done with Kendall and her indecisiveness. I don't blame them. I mean, does it really take all this drama to realize that Joe is amazing and deserves love? Was all that back and forth really necessary or worth it?
No, it definitely wasn't. And Kendall seemed to realize all of that a bit too late. So, what was Kendall feeling during her kiss with John? Love for Joe, apparently.
"I really enjoy being around John and we talk so easily and we have similar interests. It just feels really great," Kendall said of the situation. "But as soon as we kissed, I just freaked out — because I care about Joe so much. I didn't expect to kiss John. I just don't want to lose Joe."
Immediately after the kiss, Kendall ran to Joe to tell him what happened. And again, they kissed and made up.
Well, at the very least, Kendall and Joe have finally recognized what they truly want. Joe has been deadset on Kendall all this time. So, it's great to see that Kendall is being transparent about what she's going through and meeting him halfway.