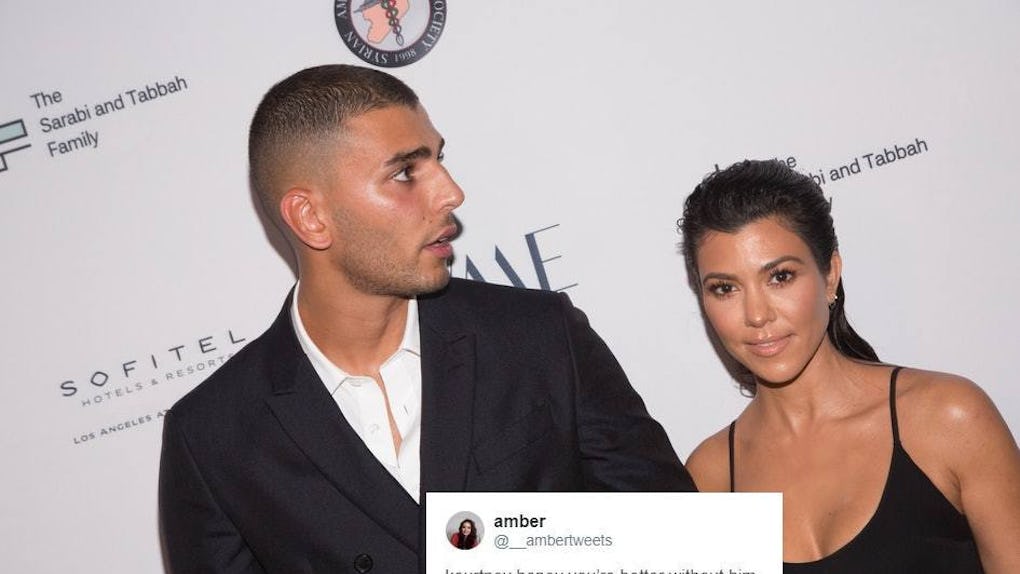 GABRIEL OLSEN/GETTY IMAGES ENTERTAINMENT/GETTY IMAGES
These Tweets About Kourtney Kardashian & Younes Bendjima's Reported Breakup Are Everything
Kourtney Kardashian is reportedly single again and fans are so happy about it! On Tuesday, August 7, TMZ reported that Kardashian recently parted ways with Bendjima and that he's already moved on from the relationship by getting cozy with Jordan Ozuna in Mexico. According to TMZ, Ozuna is a former Hooters waitress who has previously been linked to celebs like Tyga and Justin Bieber. Despite this news, it seems like Kardashian is doing just fine. Her fans are doing even better since the news broke and they're tweeting all their feelings about this breakup. These tweets about Kourtney Kardashian and Younes Bendjima's reported breakup are amazing. Elite Daily reached out to Kardashian and Bendjima's teams for comment on these reports, but has not heard back at the time of publication.
TMZ also reported that it was Kardashian who decided to end the relationship. They also unfollowed each other on Instagram recently.
The reported breakup comes just weeks after Bendjima left a rude comment on one of Kardashian's Instagram photos.
Kardashian's photo showed the 39-year-old reality star sitting on a patch of grass in a large sun hat and thong bikini.
"don't be shady, be a lady☀️," Kardashian captioned the post.
Bendjima moved in on the photo rather quickly and left an unnecessary comment that put a bad taste in fans' mouths. In a now-deleted comment, Bendjima wrote, "thats what you need to show to get likes?"
Is it really any wonder why fans are happy about this alleged breakup?
Here's what fans are saying on Twitter about the whole thing:
Bendjima has also broken his silence on the matter. In an Instagram Story, he shared a screen grab from The Daily Mail and added his own commentary to the image. "They really want me to be the bad guy," he captioned the pic. "F*ck your Hollywood bullsh*t (cant have fun with your friends no more)."
Clearly, he feels like he's being treated unfairly by the media. He also seems to suggest that the media has the details of the situation all wrong. Who knows what the real story is? Fans will most likely never know the whole truth. But they sure can speculate about it.
Like this person who seems more than happy that Kardashian has given Bendjima the boot:
And this person who's calling Bendjima out on his lack of gratitude:
Despite all the drama that seems to be stirring around this reported breakup, it's not terribly surprising.
In a July 17 report from E! News, a source close to the couple revealed that Kardashian was none too happy with Bendjima's impulsive nature, especially in regards to his reactions to her social media activity:
Kourtney doesn't appreciate Younes posting his feelings in a public forum and being impulsive. She's frustrated that he continues to get upset about it. She isn't going to stop doing what she's doing and feels like he needs to understand and deal with it … Younes gets jealous and can be possessive of Kourtney. When she posts half naked pictures, he gets very upset. He wants her for himself and doesn't want to share her with the world.
So, it looks like things were going downhill for a while. At least they got a good year and a half out of the relationship, though.
Kardashian and Bendjima met in late 2016 during Paris Fashion Week. They dated quietly until May 2017, when they made their very public red carpet debut at the Met Gala. They'd basically been inseparable ever since.