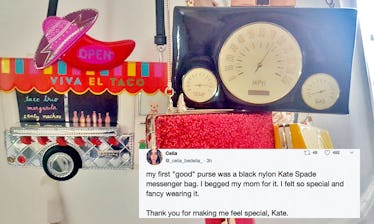 Fans Are Sharing Stories Of Their First Kate Spade Bags On Twitter & Each One Is So Relatable
Celia Bedelia on Twitter
As a teenager, I could never afford Kate Spade's beautiful bags, but I perused the store every chance I got. I'll never forget how one of the first things I bought when I graduated college and began working a big-girl job was a ladylike Kate Spade bag — it felt career-woman appropriate. As we remember the life of the late designer, the internet is sharing tweets about Kate Spade bags in their personal collections, and it's so sweet.
While my friends were spending their money at Abercrombie & Fitch (another brand I couldn't afford in high school), I saved up to buy the cheapest items I could find at another store — one that really spoke to me: Kate Spade. By the time I graduated high school, I had a collection of pretty keychains and a few school supplies that I proudly waved around during class. It wasn't until I graduated college that I was able to go into a Kate Spade store and actually shop, but it was worth the wait. Ever since I invested in that first bag, I still drop into the store as often as possible. The peppy quotes that decorate the walls, the signature bold stripes, cutesy clutches, and bright colors draw me in every time. To this day, I still carry my business cards in a black leather Kate Spade card holder. I also have a white tweed coat hanging in my closet that only comes out on really special occasions.
The news of Spade's passing this morning made me think of my long-time love and admiration for the brand. And as it turns out, I'm not even close to being alone. Fans of the brand have taken to Twitter to share their personal experiences with Kate Spade, and it just goes to show how much she will be missed.
Jonquilyn Hill and I had similar experiences with the coveted name. "When I first got a job with a livable wage, one of my first purchases was a Kate Spade. I was so proud that I could buy something for myself that was a better quality and more of an investment than the bags I'd been carrying. This is so sad." Similarly, so many others associate her bags as a treat and something to indulge in during times of celebration. Even author Melanie Benjamin dreamed of making the New York Times Best Seller List and vowed to buy herself a Kate Spade purse if it ever happened. Both came true.
When I visited the store as a teenager, I felt transported. Playing dress up and fantasizing about the day I could actually take a piece of the brand home was pure magic. And every time I left (though it was always empty handed), I always made sure to glance at my favorite quote on the wall behind the register, "She leaves a little sparkle wherever she goes." That quote still touches people in so many ways. This tweet gave me all the feels.
Rebecca Keegan shared my favorite recounting on Twitter, mostly because it's totally something that would happen to me.
"In 2003, I carried a Kate Spade knockoff bag. Her bags represented class, sophistication, and the kind of woman I was pretending to be as a broke young reporter in NY. One day I got a spur-of-moment assignment to interview Spade — while I was carrying the knockoff. During the interview I hid the bag under the coat slung on my arm. Spade was, discreetly, trying to see what I was carrying. She was nice to me, and smart. Afterward I shared the mortifying story with a guy I'd just started dating. A few days later I got a Macy's package. The guy had sent me a real red Kate Spade bucket bag. I carried the beautiful bag for years, and retired it just recently because I had destroyed it with everyday use. The guy and I have been married since 2005."
The theme of every tweet continues to share the same message: Kate Spade made women feel good about themselves. Carrying one of her bags truly does leave a little sparkle wherever you go.