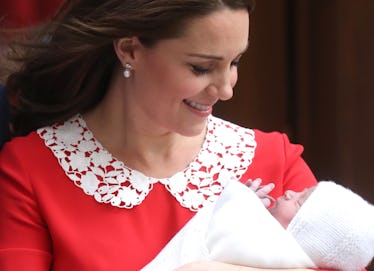 These Tweets About Kate Middleton's Third Baby's Name Will Have You So Excited
Chris Jackson/Getty Images Entertainment/Getty Images
There's a new royal baby in town, everyone! Yes, that's right — Prince William and Kate Middleton, the Duke and Duchess of Cambridge, welcomed an adorable baby boy on Monday, April 23. And the world has been rejoicing ever since Kensington Palace announced the news. But there's even more exciting news to celebrate: the little baby's name has finally been made public! Social media is currently abuzz and supporters of the Royal Family are sharing a mountain of tweets about Kate Middleton's third baby's name.
So, what did they christen the little guy? Louis Arthur Charles!
The announcement came via Kensington Palace on Friday, April 27. The announcement from the Royal Family read:
The Duke and Duchess of Cambridge are delighted to announce that they have named their son Louis Arthur Charles.The baby will be known as His Royal Highness Prince Louis of Cambridge.
As soon as the announcement hit news outlets, everyone on social media started going wild. They still are, in fact! Royal Family supporters and enthusiasts from all over the world are tweeting about the big name reveal.
There are those who really love the name Prince William and Duchess Kate have chosen:
And then there are those who just aren't feeling it all:
Whether the name Louis is your cup of tea or not, it's steeped in serious history. The name Louis means "renowned warrior." It also happens to be Louis' older brother George's middle name. The name also could be a nod to Louis Mountbatten, who was the uncle of Prince Philip. As for the name Arthur, it's kind of a family tradition. Both Prince William and Prince Charles have the name Arthur in their monikers. It's also said that Queen Victoria's favorite son was named Arthur. And Charles, of course, is a nod to Prince Charles, the baby's grandfather. Can you get any more regal than that?
Prince William and Duchess Kate definitely chose the name Louis Arthur Charles to honor the Royal Family's lineage. Normally, royal babies are given the names of important ancestors and relatives. Charlotte, the couple's 2-year-old daughter, takes a feminine form of Charles, which is Prince William's father's name. Her middle names are Elizabeth and Diana, after her great-grandmother, the Queen, and her late grandmother, Princess Diana. The couple's eldest son, George, is said to be named after Queen Elizabeth's father, King George. King George, whose real name was Albert, took on the moniker before assuming the throne in 1936.
For months now, bookmakers have been taking guesses at what the baby's name could possibly be. Just before the birth, odds were in favor of Arthur (at 2:1). That name was followed by James (at 4:1), then Albert (at 6:1). Philip and Alexander were also contenders, according to the British-based betting and gambling company Ladbrokes.
Before Prince William and Duchess Kate revealed the gender of their baby, bookies were also betting on girls' names. So, what were the top choices? Mary, Alice, and Victoria. All great names to keep in mind should there be yet another royal baby in the future!
Baby Louis will be the fifth in line to throne after his grandfather Prince Charles, father Prince William, older brother Prince George, and older sister Princess Charlotte. Not bad for a baby who was born just a few days ago, right?
Whatever you may think of little Louis' name, you can't deny that he's a cutie! Plus, a new baby is such a joy and so much fun, so congrats to the Royal family on their new addition!