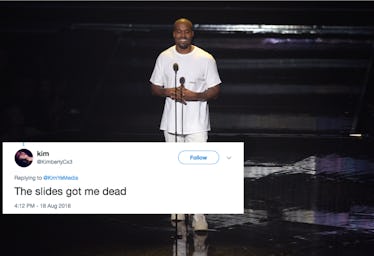 Twitter Can't Handle Kanye West's Outfit At 2 Chainz's Wedding For This One Reason
Jason Kempin/Getty Images Entertainment/Getty Images
If you weren't already convinced that Kim Kardashian West and Kanye West live a glam AF life, then let me fill you in on the fact that they spent Saturday, Aug. 18 attending 2 Chainz's wedding at the Versace Mansion in Miami, Florida. Naturally, the couple made sure to bring out their best high fashion ~lewks~ for the big day, but fans couldn't help but notice that one of these things was not like the others when it came to Kanye's outfit. These tweets about Kanye West wearing Yeezy slides to a wedding might the funniest things you see today.
At first glance, Kanye's Louis Vuitton suit (sans undershirt) is a sleek look for the formal affair. It's when you glance down to the footwear portion of the ensemble that you notice Mr. West has made a very interesting fashion choice. Kanye paired his light green/gray-ish suit with what is essentially a socks-and-sandals situation. You can see from Kim's Instagram Story that Kanye rocked gray socks and tan Yeezy Slides to complete his look, as he posed with Lil Wayne, naturally.
From the ankles up, I am very much here for this look. But I just can't get past the fact that 'Ye sported the same socks-and-sandals combo that nearly every guy in my college dorm rocked during freshman year.
Now, I'm not here to question the fashion choices of the man behind the Yeezy brand, but that didn't stop Twitter from dragging Kanye's decision to wear slides that look to be about one size too small for his feet.
Some people compared Kanye's Yeezy Season 6 slides — which are called the Men's Nylon Slipper on the Yeezy website — to footwear that seems more at-home with, um... an older generation.
Someone even compared the look to those times when you're in a hurry and grab the first things you can find to put on your feet.
Even die-hard 'Ye stans couldn't get behind this look.
While there were a few tweets that said Kanye might have just been going for straight comfort, most of Twitter was quick to playfully roast Mr. West for wearing slippers outside of the house.
As I mentioned before, Kim and Kanye put their best green ensembles on display for the wedding of 2 Chainz and his longtime girlfriend Kesha Ward, per Complex. Kim went the brighter route with a vibrant neon green hue, and she, of course, showed it off on her IG Story.
With shades of neon green and one-size-too-small slides, Kim and Kanye definitely showed up to the Versace Mansion in Miami Beach ready to make a fashion statement. What else would you expect from the couple?
Although, their out-there fashion choices were probably upstaged by the white tiger that 2 Chainz rented for his nuptials, per TMZ. Seriously, what is that life?! White tiger or not, people on Twitter definitely noticed Kanye's decision to "dress for comfort," and the consensus seems to be that they are not here for it. Here's to hoping Yeezy Season 7 comes out with a formal slide!