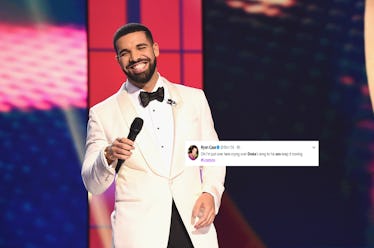 These Tweets About Drake's Son On 'Scorpion' Will Have Your Head Seriously Spinning
Michael Loccisano/Getty Images Entertainment/Getty Images
We were just busy minding our own lives on Friday morning, June 29, when Drake dropped his new album Scorpion and snuck in a huge bombshell as he did so. The singer essentially revealed on the album that he has a child, and Elite Daily has reached out to Drake's team to further confirm his baby news. Although rumors of Drake having a child were previously flying around, his unique announcement about his son has set his fans into a frenzy, and these tweets about Drake's son on Scorpion will blow your mind. What a way to start your weekend, huh?
Scorpion, Drake's fifth studio album, finally dropped, but the contents of the album quickly overshadowed the excitement of the project's release. A month after Pusha-T called out Drake in his track "The Story of Adidon" for hiding a secret son reportedly named Adonis, Drake has seemingly responded to these rumors on his own terms. Throughout the album, he makes references to protecting his son from the world, living as a single parent, and apparently becoming a father after only meeting his son's mother "two times." It's a lot, and I'm shocked that Drake presumably managed to hide this major life change from his devout fans.
As many of us do in today's tech-savvy world, several fans appeared to learn the news via Twitter before even listening to the telling album tracks. Finding out about a secret child is quite the wake-up call.
A deep dive into the album reveals lyrics specific to Drake's son and their family situation, and they're quite intense. On the song "Emotionless," the rapper said:
Look at the way we live / I wasn't hiding my kid from the world, I was hiding the world from my kid
While other songs include honestly heartbreaking details about Drake's child, this basic confirmation of his existence on "Emotionless" (and a diss about Pusha-T's interference, TBH) is really what has fans freaking out. Some listeners are still screaming over the news, while others are analyzing the confession and other baby references as if it's their job. Chill, guys, Drake just took a big step in both his personal and professional life.
The song "March 14" is also popping up in Twitter fans' messages about the album, as it seems to revolve around Drake's relationship with his baby's mother and his feelings about being a single parent. Lyrics say:
Yesterday morning was crazy / I had to come to terms with the fact that it's not a maybe / That sh*t is in stone, sealed and signed / She not my lover like Billie Jean but the kid is mine
Of course, ever-speculating fans are insistent that "March 14" is a reference to his son's birthday, and the fact that Drake admits in the song that he has only met his child once definitely seems to validate that internet rumor.
Whether or not Drake plans to explain more about his child, it's clear that fans are pretty split about his role in his son's life based on the album's information. Some have been quick to remind others that no one other than Drake and his nearest and dearest know the true story, while other listeners don't believe Drake has made the effort to be a good father. I'm already confused about what I think and it's not even noon yet.
Scorpion is currently streaming on Spotify, Apple Music, and Tidal. You better believe that I'm downloading this ASAP to scope out more discreet references to Drake's son.