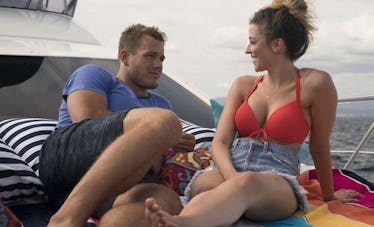 Fans Are Convinced Colton & Tia's Breakup Is A Major Clue About 'The Bachelor'
ABC/PAUL HEBERT
Oh, boy. Bachelor in Paradise's episode on Monday, Sept. 3 contained one scene that was pretty brutal to watch: a split between one of the franchise's most buzzed-about couples. Colton Underwood broke up with Tia Booth, and these tweets about Colton and Tia's breakup show fans speculating about The Bachelor's upcoming season.
At the start of the episode, Tia told the producers that she and Colton were "on the same page" about their relationship. But meanwhile, he expressed doubts about the strength of their connection to Kevin. He explained that he looked at couples like Kevin and Astrid and wanted the kind of easy bond that they seem to share. He also expressed that he felt worn down from years of making decisions that pleased other people, stemming from his career as a professional football player. He concluded that Tia is a "great girl" who deserves someone who can truly appreciate her. Soon after, Colton pulled Tia aside for a private discussion on a daybed on the beach.
In an emotional conversation, Colton told Tia that he wanted to end their relationship. She cried on his shoulder while he comforted her. Finally, she left him behind on the beach to cry while she went back into the house. He exited the show immediately.
"I want someone I can spend the rest of my life with," he said during his tearful final scene on the show. "I really did give it my all. I really did try. This hurts. I'm broken."
The shocking breakup points to one specific rumor: that Colton could be the next Bachelor. Three hours before the Sept. 3 episode aired, Reality Steve tweeted that viewers should expect Colton to be announced as Arie Luyendyk Jr.'s successor on the Sept. 4 episode of Good Morning America.
Indeed, the Good Morning America Twitter account shared on Friday, Aug. 31 that the next Bachelor would be announced on Tuesday, Sept. 4.
Colton has yet to address the rumors publicly. But it's fascinating that in the wake of Colton's on-screen breakup with Tia, a lot of fans are wondering if the former athlete left Paradise as a single man because he was preparing to be named the next Bachelor.
Colton has widely been viewed as a frontrunner for the upcoming season of The Bachelor ever since he captured fans' hearts on Becca Kufrin's season of The Bachelorette with his easygoing charm and sweet, sensitive side.
Of course, casting rumors weren't the only reaction that emerged on Twitter. A lot of fans were truly heartbroken about the split and felt especially sad for Tia.
For the record, Tia didn't shy away from telling fans exactly how she felt about watching her breakup play out on screen.
No matter what happens during Tuesday's Good Morning America broadcast, hopefully Colton and Tia are both able to move on from their split in healthy ways and find the happiness they're both searching for — whether that happens to be off screen or on another ABC show.
Bachelor in Paradise continues on Tuesday, Sept. 4, at 8 p.m. ET on ABC.