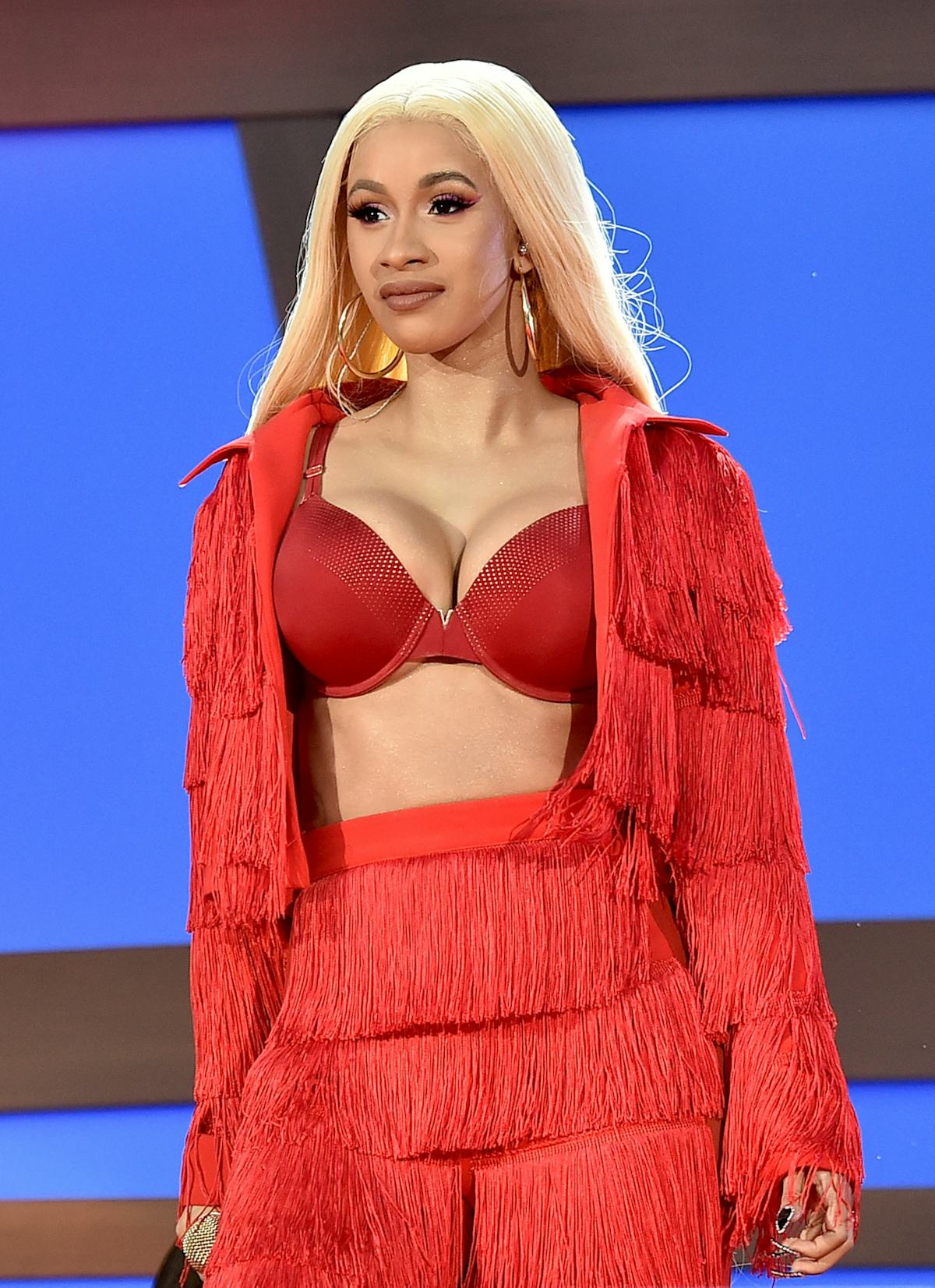 Fans Are Pissed That Cardi B Lost This Major AMA To Camila Cabello
Theo Wargo/Getty Images Entertainment/Getty Images
Cardi B has been on a pretty wild roller coaster over the past year. From getting married to Offset and having her first child, to feuding with Nicki Minaj and having a scuffle at New York Fashion Week, you could say that 2018 has been anything but boring for Cardi. But there's one thing that's adding a bit salt to the wound right now: the American Music Awards. While the rapper was up for a number of awards, it wasn't certain that she would win them all. But tweets about Cardi B's 2018 AMAs New Artist of the Year snub prove that her fans were ready for her to win.
Although Cardi has had an incredibly successful year, she lost out on the AMA for New Artist of the Year to Camila Cabello. So, unfortunately for Cardi, not everything works out the way you want it to. But that's okay, and Cardi doesn't seem terribly upset by the snub anyway. She was still up for seven other categories, and she's walking away with at least one of those awards.
Besides, Cardi also took the stage to perform "I Like It" alongside Bad Bunny and J Balvin, so that was another big win to take note of during the AMAs. I'm sure losing one award isn't going to cause Cardi to break into a sweat!
Here's how Cardi's fans are reacting to the news of her losing to Cabello:
Aside from New Artist of the Year, Cardi was also nominated for the following: Favorite Collaboration of the Year, Favorite Female Artist - Pop/Rock, Favorite Artist - Rap/Hip-Hop, Favorite Song - Soul/R&B, Favorite Song - Rap/Hip-Hop, Favorite Social Artist, and Favorite Music Video. With eight nominations total, Cardi tied with Drake for the most nominations of the year.
All that said, Cardi is doing really well for herself in spite of all the drama surrounding her this year. Ahead of the AMAs, in an interview with W Magazine that was published on Oct. 9, Cardi dished about some of the more difficult times she's faced this year, like her surprise pregnancy.
"When I got pregnant, I was f*cking freaking out," Cardi told W Magazine. "Everybody around me was like, 'No, this never happened before. Every artist that had a baby, they already put in years in the game. This is your first year. You're going to mess it up. How are you going to make it?'"
She also opened up about that altercation she had with Nicki Minaj on Sept. 7 at the Harper's Bazaar NYFW party.
"For a while now, she's been taking a lot of shots at me," she said of Minaj. "I spoke to her twice before, and we came to an understanding. But she kept it going."
Now that Cardi's daughter Kulture is a few months old and her feud with Minaj has quieted down some, it seems like she's just pushing forward and doing what she needs to do to succeed. Someone with that kind of drive definitely isn't going to fret over an AMA snub, that's for sure!