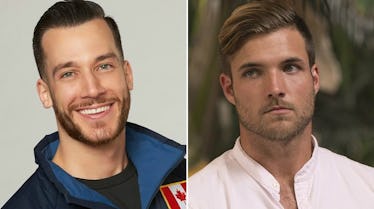 Benoit & Jordan's Fight On The 'Paradise' Reunion Was Extremely Awkward
ABC
This season of Bachelor in Paradise was full of drama thanks, in part, to Benoit and Jordan, who both had their sights set on Jenna. While Jenna stuck with Jordan for the duration of the season, the two guys involved in this love triangle still haven't settled the score. And that's made for some pretty juicy bits on the Paradise reunion. These tweets about Benoit and Jordan's fight on the Paradise reunion are definitely turning some heads.
To back things up a little and give you a bit of context, here's what happened: Benoit showed up in paradise quite late, forcing him to encroach upon existing relationships. The girl he chose for a date happened to be Jenna, who was already attached to Jordan at that point. While Jenna felt a connection with Benoit, she was careful not to hurt Jordan's feelings, especially because Jordan was flipping out about Benoit to begin with. The situation escalated and Jordan exhibited some questionable behavior, but Jenna stuck with him in the end.
On the reunion, host Chris Harrison asked Benoit about what happened and Benoit gave the audience his side of the story. Needless to say, the conversation got heated. Here's how it went down.
"This is the thing, Chris. When I stepped in there, I got a date card and I went for the lady I was feeling a connection and she accepted to go on that date. It's not like I forced her to come with me," Benoit said of the situation. "And we had a good time, so I don't get it why he's mad at me for doing that. This is how it works."
Jordan's response?
"Well, what you had with Jenna was a very normal connection that made her feel comfort," he said. "What she had with me was an out of this world connection that made her feel uncomfortable."
The response got some laughs from the audience, but Jordan and Benoit were totally serious about the whole thing.
"Whenever I saw that you gave her comfort and she felt secure with you, it's because you made her feel like anyone else that she's ever dated before," Jordan continued. "I was different; I brought some flavor; I brought some tastefulness to the thing."
Benoit interrupted with, "You brought some red flags also."
Yikes!
"Red flags, that's fine. Hey, I was transparent and I'm real and I fight for what I want and you surrendered," Jordan countered.
Here's how people are reacting to the whole situation on Twitter:
Eventually, the situation escalated to the point where Jordan and Benoit were yelling at each other. Jordan even brought Benoit's ex Claire into the argument. A low blow, for sure. Fans weren't feeling any of it.
Wow, what a reunion this is turning out to be, huh? It doesn't look like Benoit and Jordan are going to be getting friendly anytime soon. There's a whole lot of animosity between them and poor Jenna is just stuck in the middle. A sad situation all around.