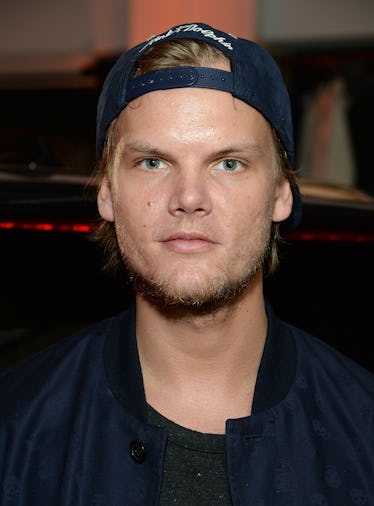 Fans Are Sharing This One Avicii Lyric & It'll Break Your Heart
Michael Kovac/Getty Images Entertainment/Getty Images
It was reported that Tim Bergling (aka Avicii) died on on Friday, April 20, according to a statement from his representative. The DJ was found dead on Friday in Muscat, Oman. Fans are mourning the loss, and these tweets about Avicii's death show that they already greatly miss the DJ.
According to Variety, Avicii's representative released a statement saying,
It is with profound sorrow that we announce the loss of Tim Bergling, also known as Avicii. He was found dead in Muscat, Oman this Friday afternoon local time, April 20th. The family is devastated and we ask everyone to please respect their need for privacy in this difficult time. No further statements will be given.
The Swedish DJ was 28 years old and he had retired from playing live shows in 2016, according to Billboard. Avicii announced his plan to quit touring in March 2016 when he posted a letter to his fans on his website. He explained, "We all reach a point in our lives and careers where we understand what matters the most to us ... Last year I quit performing live, and many of you thought that was it. The next stage will be all about my love of making music to you guys. It is the beginning of something new."
After the news broke of the EDM pioneer's passing, fans turned to his music to show their love for him.
Fans focused on his one of his hits, "Wake Me Up," in particular, and they honed in on one fitting lyric, "So wake me up when it's all over."
Beyond quoting the song, fans also shared how much Avicii and his music means to them.
The news really devastated fans of his music, and people were heartbroken to learn he died so young.
While Avicii was still young at 28 years old, the DJ suffered from many health problems. In an April 2016 interview with Billboard, it was revealed the star suffered from acute pancreatitis. The magazine also reported he had to cancel a series of shows in 2014 after the removal of his appendix and gallbladder.
He also told the magazine of his 2016 decision to stop touring, "To me it was something I had to do for my health. The scene was not for me ... I took on board too much negative energy, I think."
Even at his young age and early death, Avicii accomplished a lot in his career that spanned just over a decade. He shared in his 2016 Billboard interview that he began producing music at age 16 and went on his first concert tour at 18. He explained how he jumped into his career 100 percent as soon as it took off, and while it was exciting, he revealed it came at a cost. He detailed that early part of his career when he said, "It was the best time of my life in a sense. It came with a price — a lot of stress, a lot of anxiety for me — but it was the best journey of my life."
It's with sadness that Avicii fans say goodbye to the DJ, but his legacy will always live on. He accomplished quite a bit in his career and life that were cut far too short. During his time as an accomplished EDM DJ, Avicii won two MTV Music Awards, one Billboard Music Award, and he earned two Grammy nominations. While Avicii will be sorely missed, he will always be remembered for his amazing music.