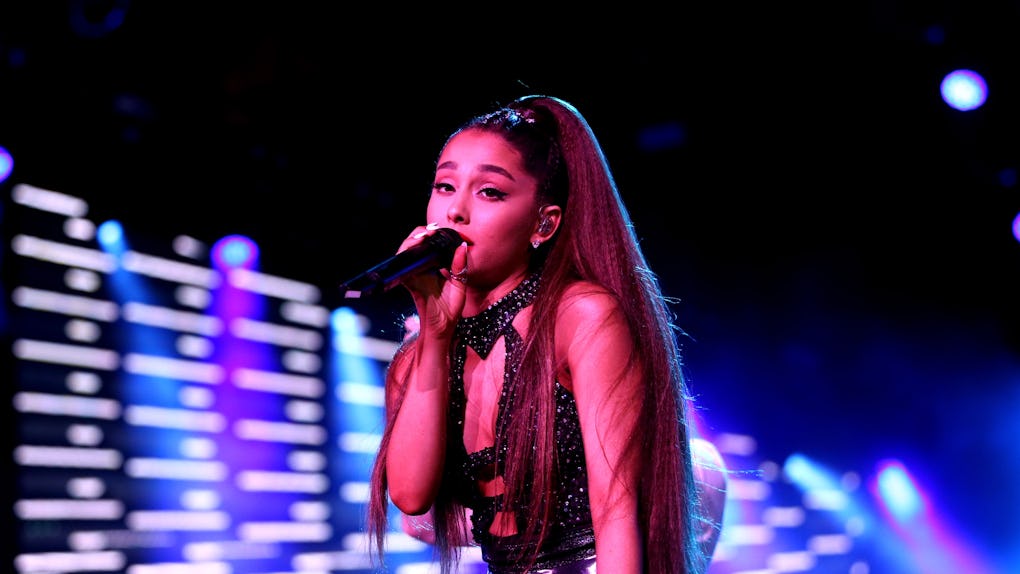 Rich Polk/Getty Images Entertainment/Getty Images
These Tweets About Ariana Grande's "Better Off" Misheard Lyrics Are So, So Funny
The best kind of album is the one that contains subtle burns about someone in the singer's real life, and it looks like Ariana Grande has done that with at least one track on her fourth studio album Sweetener. Fans are suspecting that her song "Better Off" is about her relationship with ex-boyfriend Mac Miller, but the tune is also making headlines for its frequently misheard lyrics. In case you need a laugh, these tweets about Ariana Grande's "Better Off" misheard lyrics are hilarious.
Stylized on the album as "better off," the song kicks off with the lyric, "You keep me in your orbit / Well, I know I'm a hard one to please." Makes sense, right? But if you take a listen to the song without knowing the lyrics beforehand, you may notice what plenty of Twitter users have already heard instead: "You keep me in your armpit." Um, you OK, Ariana?
Although the ballad's emotional message about understanding your worth and getting rid of toxic relationships in your life has fans shook, the misheard lyric almost steals the spotlight in "Better Off." Even if you've corrected yourself by looking up the proper lyrics, it's difficult to leave behind the mindset that someone is keeping Ariana Grande in their armpit. Arianators shared their confusion on Twitter, and while it feels a little bad laughing at such an empowering song, this trick of the ears is just too good to ignore.
A song can't be considered a hit unless fans misunderstand it to epic proportions, so whether or not you've also fallen victim to other commonly misheard lyrics, it looks like "Better Off" has joined the songs' ranks. Knowing Grande and her playful personality, she's bound to make fun of the snafu, and I wouldn't put it past her to purposely sing the incorrect lyric during a live performance. Can that be her next musical segment with Jimmy Fallon or James Corden?
Armpit allusions aside, the song's powerful message means a lot to Grande, who told a fan on Twitter that "Better Off" was an old track that correlated with a time in her life when she was ready to be alone. Grande was nervous about the song's theme of her leaving behind an upsetting relationship "coming true," but it sounds like she has a soft spot for the track.
Once they moved past the unlikely beginning of the earworm, fans also understood Grande's "Better Off" message, relating to its concept of loving yourself and moving on when something wasn't satisfying. On the track, Grande sings, "I'm better off without him / I'm better off being a wild one." Although she's now settled into a relationship with comedian Pete Davidson, Grande has previously described her time with Mac Miller as "scary" and "toxic," and seeing as her most recent breakup was with him in May 2018, "Better Off" is considered an inside look into her thoughts about that time in her life.
Fans applied the song's message to their own lives, sharing tweets about how "Better Off" has already affected their relationships or views of Grande.
While it's a little unfortunate that such a personal song has become the latest Twitter joke, it's good to know that fans are also appreciating that Grande opened up about a difficult experience. I'll try not to resort to images of armpits when I play "Better Off" on loop later, but no promises.