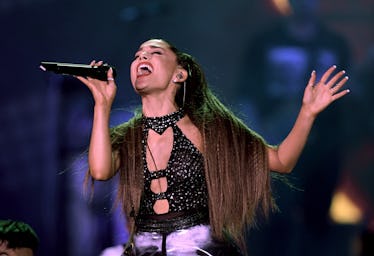 Twitter Is Angry About Ariana Grande's Grammy Nominations For A Big Reason
Kevin Winter/Getty Images Entertainment/Getty Images
OK, friends, the time for Grammy season will soon be here, so you better get ready to watch some of your favorite talented stars get together for the occasion. The 61st annual award ceremony, set to take place on Feb. 10, is pretty big night for music, and on Friday, Dec. 7, all of the contenders were finally announced. Some artists seemed like an obvious choice, and others were more surprising, but one thing is for sure: all of the possible winners are totally worthy of that award. One star who needs some extra attention this year? Our girl Ariana Grande, of course. Because the nominations show that she was snubbed from a ton of categories — and these tweets about Ariana Grande's 2019 Grammy snub prove how bummed her fans are.
Before we get into that, though, let's just take a moment to address that not every album or song from the year is considered, and that only music released between Oct. 1, 2017 and Sept. 30, 2018 is eligible. Fortunately, Grande's Sweetener, which was released Aug. 17, 2018, made the cut, but that didn't necessarily make her a shoe-in. But LOL, if you've listened to Sweetener, then you'll know just how worthy Grande is of all of her nominations. That *also* means that Grande's "Thank U, Next" won't be up for any nominations, as its debut on Nov. 3 unfortunately passed the deadline.
And, just a little FYI, if you're wondering why you're seeing more than the usual amount of nominees, that's because the Grammys have upped the number of artists in the four major categories from five to eight — meaning there's a larger possibility that your favorite band, group, or solo performer will make the cut.
After the list of Grammy nominations were rolled out, the world got to see exactly how their favorite artists stacked up. Grande was nominated for Best Pop Solo Performance and Best Pop Vocal Album, but was snubbed by most major awards like Song Of The Year and Album Of The Year for 2019. With that being said, Fans of Ariana Grande were disappointed at Grande's two noms and took to Twitter to share their thoughts about it:
As we all know, Arianators are super passionate about the pop star, so it makes total sense for them to express their dismay over just how much they believe Grande was snubbed. Grande herself, however, seems fine about the nominations. At the time of publication, she has not posted about the Grammys.
In case you wanted to know the rest of the nominations, you can check those here. I don't know about you, but I'm pretty pumped to see all of these people in one room, vying for that prestigious gold Gramophone.
She truly is a thing of beauty.
So, best of luck to Ariana Grande and all of the other brilliant nominees out there. Your fans will be eagerly anticipating February to roll around so that we can sit on our couch for hours on end and cheer on all of our favorite performers.