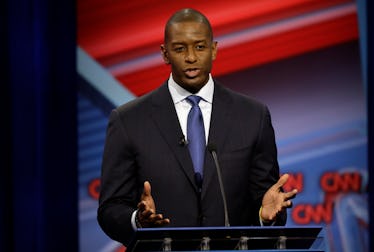 Twitter Is Gutted After Andrew Gillum's Loss In Florida — But This Isn't Over
Pool/Getty Images News/Getty Images
Bad news here. Andrew Gillum, the progressive Democrat running in Florida's governor race, lost the election to Republican Ron DeSantis in perhaps one of the most closely watched races in American history. While many of his supporters reacted the news with shock and sadness, there are endless tweets about Gillum's loss in Florida that are so, so supportive and will surely help him stay in good spirits.
Gillum, who supports sanctuary cities, "Medicare-for-all" and raising the minimum wage, conceded defeat to DeSantis on Nov. 6. Although the results are still rolling in as of 11:50 p.m. on Tuesday evening, DeSantis has received 49.8 percent of votes while Gillum has earned 48.8 percent of votes, per CBS News. The Republican candidate had drawn widespread support for his conservative stances on key issues, including his pro-life stance, opposition to same-sex marriage, criticism of gun control measures, and more. The stark differences in their initiatives seemingly tanked Gillum's bid in the end — and, although it's a sad moment for some, there's an outpouring of supportive messages floating around on social media that definitely lighten the mood.
"We'll get 'em next time," one Twitter user declared.
After conceding to DeSantis on Tuesday evening, Gillum also offered up a motivating message, proving he won't be deterred: "We have a choice to make tomorrow morning. Are we going to wake up and bask in sorrow and defeat, or are we going to get up and reassert ourselves to the mission at hand?"
Throughout the course of the midterm election, Gillum was considered a favorite among progressive Democrats, picking up momentum after earning endorsements from popular figures like Sen. Bernie Sanders and financial backing from others like billionaire liberal donor George Soros. Polls in the month leading up to the election had also consistently shown him in the lead. However, his bid for governor had been clouded by an federal corruption probe into Tallahassee, Florida's city government.
In June 2017, the FBI requested thousands of pages of records from key players in city government, many of whom are close to the mayor. Per the Sun Sentinel, Gillum maintained his innocence, saying, "I am confident that I have done nothing wrong, nothing unethical and nothing illegal. If I wasn't, I wouldn't be running this race." According to CNN, no one close to Gillum or the probe has been charged with a crime, and the FBI reportedly told the politician that he isn't the focus of the investigation. However, his opponents still sought to paint him as a corrupt politician who couldn't be trusted in office.
DeSantis also came in for criticism on numerous occasions — not least of all for comments about Gillum himself, which many saw as racist. In September, The Washington Post reported that DeSantis had spoken at "racially charged" events on multiple occasions, and on Aug. 29, he told Fox News that "the last thing we need to do is to monkey this up," in reference to the governor's race. Representatives of DeSantis did not respond to Elite Daily's request for comment on the remarks and speeches. Shortly after, on Sept. 10, DeSantis resigned his seat in Congress.
One of his main critics was President Donald Trump. On Nov. 3, just mere days before the election, Trump called Gillum a "radical socialist" who is "not equipped" for the job at a campaign rally, per The Hill. Days before that, Trump tweeted out a message to his 55 million followers calling Gillum a "thief" (without any apparent evidence, at that.)
"In Florida there is a choice between a Harvard/Yale educated man named @RonDeSantisFL who has been a great Congressman and will be a great Governor," Trump tweeted on Oct. 29, "and a Dem who is a thief and who is Mayor of poorly run Tallahassee, said to be one of the most corrupt cities in the Country!"
In the end, the drama seemingly derailed his nomination because Gillum couldn't muster up enough support to win his gubernatorial bid. There's always the opportunity of a comeback, though, so maybe this isn't the end for him just yet. We'll see.