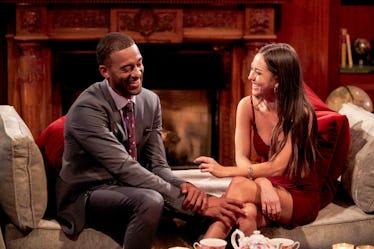 Twitter Is PISSED About This 'Bachelor' Fan-Favorite Getting Sent Home
ABC/Craig Sjodin
From the start of Matt James' season of The Bachelor, Abigail Heringer was an instant fan-favorite. The 25-year-old Portland native snagged Matt's first impression rose on Night 1, and while it looked like she was on her way to becoming Matt's one and only, their love story officially came to an end during the Feb. 15 episode. These tweets about Abigail Heringer leaving The Bachelor prove fans weren't ready to see her go home.
Abigail impressed fans (and Matt) from the get-go when she opened up and shared her story on her very first night on The Bachelor. Abigail was born deaf and has a cochlear implant, and upon stepping out of the limo on Night 1, Abigail told Matt how glad she was that he had nice lips, because she would be reading them all night.
Once the pair got the chance to talk later in the evening, they both giggled about how nervous they were, giving viewers major endgame vibes. As they chatted, Abigail opened up and told Matt more about her experience with deafness, as well as about sister, who's also deaf. They sealed the conversation with a kiss before Matt gave Abigail his first impression rose.
While Abigail was "on cloud nine," after accepting the rose, she was clearly expecting to connect more with Matt in the following weeks. But as Matt's journey continued, she never received an invitation for a 1-on-1 date. So, during the Feb. 15 episode, after weeks of watching other contestants get more time with Matt, Abigail decided to ask the Bachelor where she stood with him.
Unfortunately for Abigail, instead of assurances from Matt, she got sent home. The Bachelor explained since he was so confident in their bond in the beginning, he spent his time exploring his other relationships in the following weeks. While exploring, those bonds with the other women grew stronger than the one he initially built with Abigail. Due to the candidness of their conversation, Matt eliminated Abigail then and there as opposed to having her stick around for another rose ceremony.
After getting eliminated, Abigail tearfully said, "I feel like I make men realize what they want next, but they never want me." The quote, as well as her performance all season, really resonated with fans. In fact, some are already demanding Abigail be named the next Bachelorette.
As of Feb. 15, there's no word on who will be the next lead (although there are rumors that Katie Thurston will take the crown). However, since she's made such an impression, there's a chance viewers will get to see more of Abigail, whether it's on the next season of The Bachelorette or another franchise spin-off like Paradise.
Season 25 of The Bachelor continues on Monday, Feb. 22, at 8 p.m. ET on ABC.